The Pearl City Lady Chargers varsity basketball team wrapped up their final practice Wednesday night before entering tomorrow afternoon's pre-season opener against Waimea from the Kauai Interscholastic Federation in the Moanalua High School Na Menehune Pre-Season Tournament.
Pearl City will meet Waimea at 3:00pm at Moanalua High School.
The Lady Chargers look good and well conditioned. Head Coach Mike Morton is looking forward to getting his team on the court and in competition during the upcoming pre-season schedule. Returning starters from last season's squad who finished in third place in the OIA Western Division with a 7-5 record and a berth in the HHSAA Division I State Girls Basketball Tournament will lead the 2011-2012 campaign.
"We're doing good," said Morton. "We have a lot of returnees. Seven key players coming back, we have the Angle twins (Sabrina and Shawna) and A.J. (Sylva) as the Guards. They bring a load of experience. They've been playing since sophomore year."
Sabrina Angle earned first team OIA Western Division honors and was second in scoring with a 17.3 ppg average in the OIA Red Division.
Sylva was an OIA Western Division second team selection.
Sabrina's twin sister Shawna spent most of last season recovering from a foot injury but is fully recovered and expected to play a more role in leading the Lady Chargers this season.
"We're doing really good right now. It looks promising. We're healthy, conditioning is really good. We just want to keep injury free because we're not very deep," added Morton.
The Lady Chargers have experience at Center in Dani Magana, Tiari Walker and will be counting on the seniors to battle in the post. Both Magana and Walker earned OIA Western Division Honorable Mention Honors for the 2010-2011 season.
"Dani (Magana) and Tiari (Walker) and Brandee (Chun) are the big girls," Morton said. "We also have Sierra Tadiarca, Alexia Blalock and Krystynn Naputi coming off the bench. Our big girls are getting better. That's what we're really trying to focus on our big girls getting better. They were a little behind last year but they had a lot of playing time so they have experience. I think they're doing good this year. We had a good scrimmage yesterday and looking forward to the season."
With a 2011-2012 Lady Chargers team that consists of 10 Seniors and 2 Juniors, most would consider this to be the year to bring home another championship. "Western Division Champs, OIA Champs and State Tournament is where we want to be," Morton said.
I agree!
The Lady Chargers open their regular OIA Western Division season at home against Radford on Friday, December 2, 2011. Tip off is scheduled to follow the 5:30pm Junior Varsity game.
Go Lady Chargers!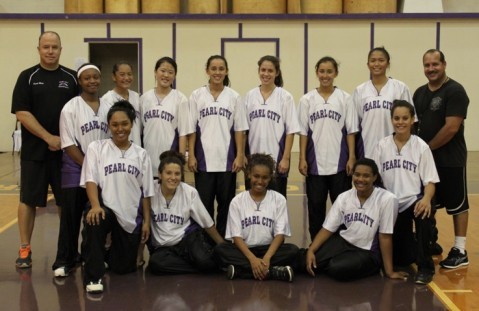 Photo by Barry Villamil | [email protected]
2011-2012 Pearl City Lady Chargers Varsity Basketball Team.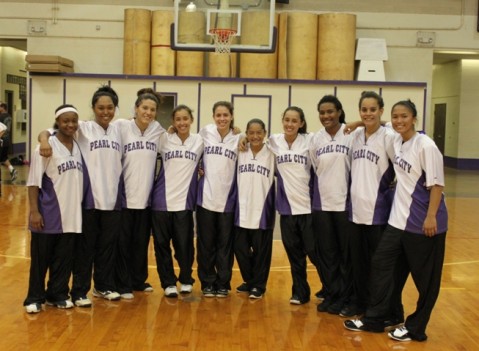 Photo by Barry Villamil | [email protected]
Lady Chargers Senior Class.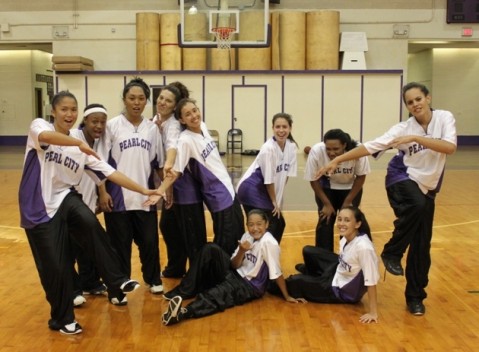 Photo by Barry Villamil | [email protected]
Just having fun!

PCHS Lady Chargers 2011-2012 Varsity Basketball Roster:
# Name Height Grade Position
2 Sabrina Angle 5'3" 12 Guard
3 Adrienne Jean Sylva 5'4" 12 Guard
4 Shawni Cayetano-Ramos 5'3" 12 Guard
10 Michelle Wilke 5'4" 11 Guard
14 Shawna Angle 5'3" 12 Guard
22 Sierra Tadiarca 5'6" 12 Forward
23 Alexia Blalock 5'6" 11 Forward
24 Tearra Mayberry 5'3" 12 Guard
31 Krystynn Naputi 5'6" 12 Forward
32 Dani Magana 5'9" 12 Center
33 Tiari Walker 5'9" 12 Center
44 Brandee Chun 5'9" 12 Center
Head Coach: Michael Morton

Assistant Coach: Jay Sylva, Jack Ofoia

Manager: Yubin Cho