Thanksgiving Day for staff, students, parents, and supporters of Pearl City Highlands Elementary School (PEACHES) wouldn't be the same without the opportunity to feast on a piping hot, imu cooked, turkey, ham or pork selection while supporting the school during their annual Thanksgiving Imu Fundraiser.
PEACHES volunteers fired up the imu on Wednesday, November 23 on the school grounds in preparation to receive hundreds of bundled meat selections from supporters who had purchased fundraiser tickets for a spot in the imu.
The turkey, ham and pork bundles were placed in the imu Wednesday night and will be unearthed in the morning on Thanksgiving Day and made available for pick up.
Proceeds from this year's fundraiser will be used to support the school's educational goals.
Mahalo to to all the PEACHES supporters who came together to make the fundraiser a success.
Also, mahalo to the Pearl City High School soccer team and coaches who volunteered their time to help prepare the imu.
Happy Thanksgiving to all!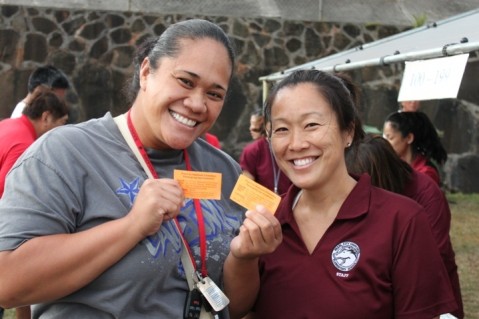 Photo by Barry Villamil | barry@mypearlcity.com
Fiona Fonoti (left, with imu fundraiser tickets in hand) pictured with Stephanie Shigemasa (right) on Wednesday, November 23, 2011 during the imu fundraiser drop off at Pearl City Highlands Elementary School.