It's a proud time for Highlands Colts Pop Warner Football as the program's Peewee team recently won the State Pop Warner Division 1 Championship with a 14-8 victory over the Waianae Tigers in the Mele Kalikimaka Bowl on Sunday, November 20, 2011 at Aloha Stadium.
The Highlands Colts Peewee Champions have earned an opportunity to travel to Florida to represent Hawaii in next week's Pop Warner Super Bowl Playoffs and Championship at the ESPN Wide World of Sports Complex in Disney World. The championship runs from December 3-10.
The team is currently practicing in preparation for their December 1st departure to Florida. Highlands Colts Head Coach Faa Moeone knows what he needs to do to get his boys ready and has an experienced team and coaching staff in which to work with when it comes to playing for championships.
"This group of boys have been to the state championship for the last two years from Junior Peewee's but didn't win. So this year they made a promise to themselves that they were going to try their best and it was something that they had to accomplish. This team showed good character and are well disciplined. They listen and are good on the field. They just want to play the game and win."
The Highlands Colts have built a winning tradition and in recent years have captured state titles or finished as runner ups in three different divisions.
"The Highland Colts in 2008 won both the JPW & PW (Kai Kamaka, current Pearl City High School Chargers Varsity Head Coach was the coach of this team) Division 2 state titles and the following year (2009) was moved up to Division 1," said Highlands Colts President, Leah Cui. "In 2009 the PW won the Division 1 state title and the JPW were state runner ups and the Jr. Midgets were also state Runner ups."
"In 2010 both the PW and JPW teams were both Division 1 Runner ups and now in 2011 the PW took the D-1 title. That's 8 championship games in 3 different divisions since 2008," added Cui.
Congratulations to the 2011 Highlands Colts State D1 Peewee Champions and their supporters and good luck in the Pop Warner Super Bowl Playoffs and Championship in Florida!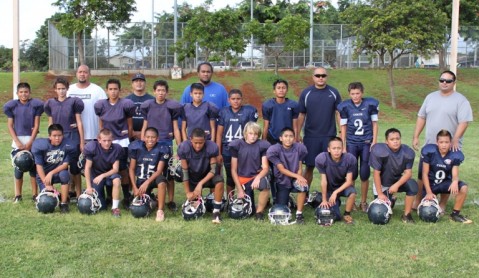 Photo by Barry Villamil | [email protected]
2011 Highland Colts Peewee State Division 1 Pop Warner Champions!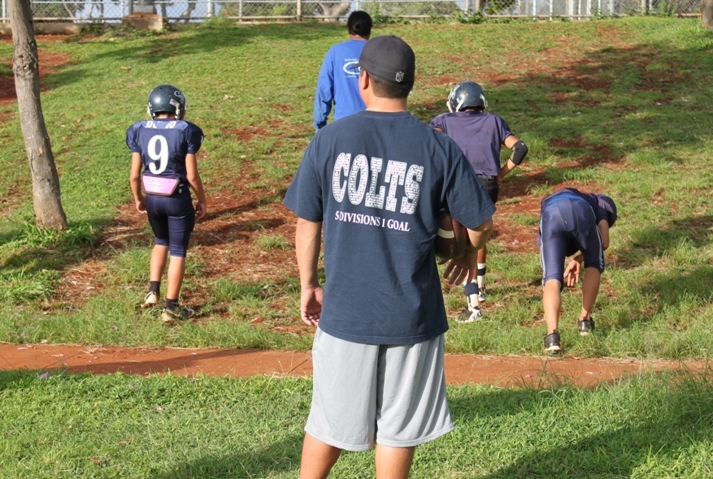 Photo by Barry Villamil | [email protected]
Highlands Colts Peewee team pictured working hard during practice on Friday, November 25, 2011 at Manana District Park as they prepare for next week's Pop Warner Super Bowl Playoffs and Championship at Disney World in Florida.