The Pearl City Lady Chargers looked good in their OIA Red Western Division Varsity Girls Basketball regular season opener with a 39-34 win at home against the visiting Radford Lady Rams.
Pearl City's Sabrina Angle led all scorers pumping in 16 points with four-3 pointers. Twin sister Shawna added 9 points and two-3 pointers. Adrienne Jean Sylva contributed 8 points with one-3 pointer.
Brittany Perry led the Lady Rams with 9 points and teammate Rachael Kapesi scored 6 points hitting on two-3 pointers.
The Lady Chargers had just completed a successful pre-season schedule with a 5-3 record against top Hawaii high school competition before Friday night's match up with Radford. An experienced Pearl City squad that features 10 Seniors and 2 Juniors hit the court with their run and gun style of play that Lady Chargers fans have come to know the past few years.
Hustle from the Senior guard trio of Sabrina and Shawna Angle and Adrienne Jean Sylva dictated the tempo last night that was supported on the defensive side of the ball from Sierra Tadiarca (Senior) and Alexia Blalock (Junior) at the Forward position. Seniors, Dani Magana and Tiari Walker took care of business as usual in the post battling against the Lady Rams big girls around the basket.
The Lady Chargers 2011-2012 schedule will be a mix of OIA Red and OIA White competition. Lady Chargers Head Coach Mike Morton was pleased with his team's performance on Friday but was concerned before the game about matching up against the Lady Rams who represent the OIA White Division but have the ability and personnel beat to OIA Red Division competition. "Radford is tough," Morton said. "Radford can beat any Red team. We were a little worried about this game but we're just glad to get the victory."
The Lady Rams played tough against Pearl City in the first half, holding the Lady Chargers to 19 first half points. Radford trailed by one point 19-18 at the end of the second period.
Pearl City got down to business in the second half going up by as much 12 points behind the hot hand of Sabrina Angle, Shawna Angle and Adrienne Jean Sylva. The Lady Chargers also found themselves in foul trouble with their big girls and was forced to slow down the game in the fourth period. "We were in foul trouble with some of our big girls so we wanted to pull the ball out and run some of that clock," Morton said. "As long as Radford couldn't touch the ball, they couldn't score so that's our theory."
Well, the theory and strategy worked to perfection as the Lady Chargers notched their first win to start the regular season. The team will play their next game on Tuesday, December 6th, on the road against Waipahu. The Junior Varsity tips off at 5:30pm with the Varsity contest to follow.
Go Lady Chargers!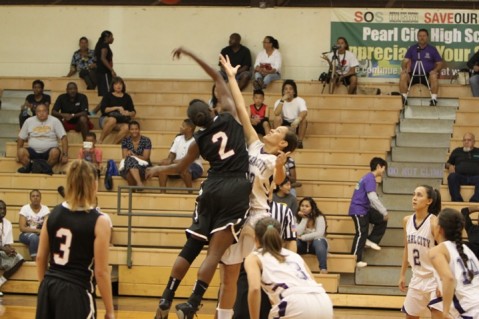 Photo by Barry Villamil | barry@mypearlcity.com
Tiari Walker goes up high against Radford's #2 Imani Wimbush to tip off the Lady Chargers regular season at home on Friday, December 2, 2011.