Gina Castro is the Store Manager for Ben Franklin Crafts. She has been with the company since February of 2011 and moved to the stores Pearl City Shopping Center (PCSC) location in March.
Ben Franklin Crafts, under Castro's management leadership, is another example of how a Pearl City Shopping Center merchant is doing well from the support of a very loyal Pearl City community customer base that patronizes her business as well as other PCSC merchants.
In return, Ben Franklin Crafts shares in their success with the Pearl City community through various fundraising activities and donations.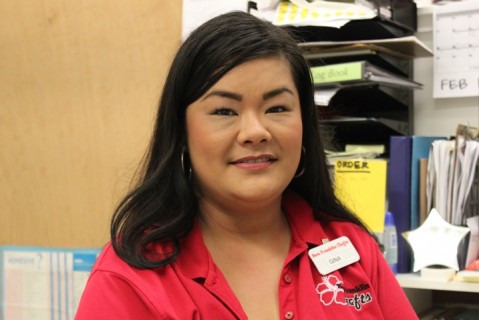 Photo by Barry Villamil | [email protected]
Gina Castro pictured in her office at the Ben Franklin Crafts store located in the Pearl City Shopping Center.

Q: How do like being employed by Ben Franklin Crafts?
A: It's a really good company. It's a family owned company. The parent company is called Maui Varieties Unlimited. They also own, besides Ben Franklin, Ace Hardware on the neighbor islands and some on the mainland. It's a great company if you have ever worked for a local company verses big box companies. It's a real family feel. You're not just a number. I feel that my input is valuable.
Q: How would you describe your business?
A: We're not a need to have type of business. We don't sell food. People don't come in for food shopping or essentials. It's a hobby store. We really do appreciate the customers that we do have because they can spend their money elsewhere but they spend it more on hobbies or family activities.
Q: Has the recent economy affected business at your store?
A: It is challenging. This store is actually a very ad driven store. We get very busy when we have newspaper ads. When we don't have an ad we really have to struggle for their business. It's a lot of us being creative and coming up with ideas that will inspire people to come in and actually spend their dollars here.
Q: Does your store reach out in support of our community? Pearl City schools?
A: We try to reach out to the schools in our community and do projects with them and get them involved. The past manager that was here actually did a lot of outreach to the schools. I'm still trying to get a grasp on it and get in contact with all the schools. We did work with Pearl City High School this past graduation with Project Grad. We also worked recently with Momilani Elementary School in doing a craft project night. I'm trying to get out there more and do more work with that. We also did some things with Leeward Community College.
Q: I noticed a group of senior citizens that were working on a craft project in the back of the store. Were they a part of a class offered here at your Pearl City Shopping Center store location?
A: We have a senior's class every Monday. They do beading; we also have a paint teacher and a Wilton instruction teacher who does cake decorating which is very popular right now. We also have knitting and crocheting.
Q: You are relatively new to the craft store business. How has your learning curve and creativity paralleled one another?
A: For me, not really coming from the crafting world, I'm not really set in my ways so I have more ideas coming in. Being someone who doesn't know too much about crafting, when I see something I want to know more about it.
Q: How has your staff helped and supported you in the transition from your previous management experience to managing a craft store?
A: I have a really good support team here. A lot of them have been here for a number of years and they have showed me the way to what works here and what doesn't work. They have helped make some of my ideas come to life for example, the Angry Birds that we have all over the store. That was something that just came to me one morning when we were running out of ideas of how to decorate the store.
Q: Do you choose the inventory sold in your store?
A: It comes down from corporate. Our buying office is in Hilo. We have really good buyers. They come out all the time to see us. We have a staple buyer which is our regular merchandise and we also have a seasonal buyer. If we see something that's selling some where else that is doing really good, we do have input, and we let them know, and then we can bring that kind of product in.
Q: Do you receive suggestions from customers with regard to certain types of products that they would like to see in your store?
A: Oh yes, all the time, especially in our paper arts and our beading departments. Right now we do a lot of things with faceted beads that's actually what the senior ladies are working on. Right now with the teenagers, pony beads are really popular to make bracelets out of. We kind of make sure we keep in touch with the different age groups to bring everyone here.
Q: Will there be any improvements made to the store in the near future?
A: My initial focus when I got here was to just clean up the store. I want to make sure it's clean, well lit and organized. Because of the store and how it expanded, the layout is kind of weird. We do have to spend a lot of time showing customers where a product is, where in some of our other stores it's very easy to find things. This year we're going to do some changes with our register area and open that area up and also open up our celebration area because we are really doing well in those departments.
Q: Who would you like to credit for your success as a store manager for Ben Franklin Crafts?
A: I think my boss Cory who actually oversees all the Ben Franklin Crafts stores and all the Ace Hardware stores. He's really given me the freedom to do what I want to do. He doesn't limit me to just stay within the box. He's like, if you can dream it, you can make it happen. He just wants to know how it's going to be done and he let's me do kind of what I want. That's really great.
Q: Any key employees that help make the stores daily operation run smoothly?
A: I've got a really good bunch of employees. Lei is one of my supervisors and a very strong, vital force here in the store. She knows more about merchandising than she would like to admit and she's very good at decorating. Jaime is another one of my supervisors who is awesome at decorating and putting together displays. The two of them really help me out with that portion. My merchandising in this type of environment wasn't the best, so they really helped me with that and how to make things look good and flow.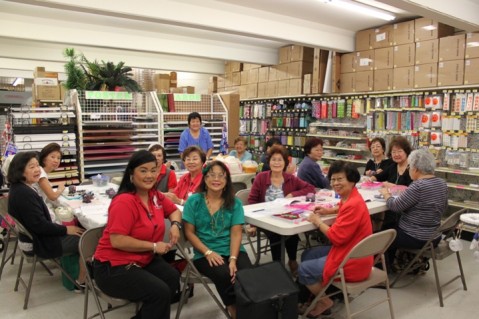 Photo by Barry Villamil | [email protected]
Gina pictured with her Monday morning senior ladies beading class.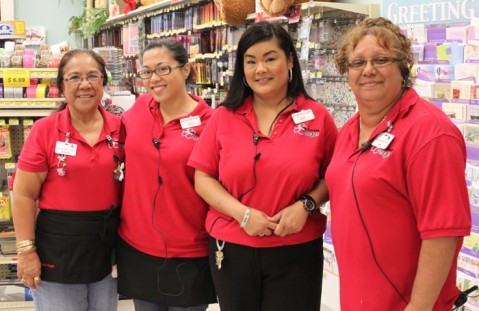 Photo by Barry Villamil | [email protected]
Gina pictured with her Ben Franklin Crafts store crew on Monday, December 12. 2011.

Photo by Barry Villamil | [email protected]
Entrance to the Ben Franklin Crafts store located at the Pearl City Shopping Center.