Sabrina Angle's 18 first half points, which included 4-3 pointers, led the way for the Pearl City Lady Chargers (4-0) as they defeated the Nanakuli Lady Golden Hawks (2-2) 37-24 last night in OIA Red Western Division Varsity Girls Basketball played at Nanakuli High School.
The Lady Golden Hawks stayed close to the Lady Chargers after the first period trailing by only two points 9-11. The Lady Chargers turned it on in the second period taking a 32-16 lead at the half.
In the third period, the Lady Chargers went cold as the Lady Golden Hawks stingy defense held the high powered Pearl City offense to zero points, outscoring them 6-0.
Both defenses shut down one another in the fourth and final period with Pearl City coming out on top, outscoring Nanakuli 5-2.
Nanakuli's Jasmine Saole pumped in 13 points to lead the Lady Golden Hawks.
Pearl City's Adrienne Jean Sylva contributed 10 points in the Lady Chargers win.
The Pearl City Lady Chargers remain undefeated in the regular season at 4-0. Nanakuli evens their record at 2-2.
Pearl City will host Kapolei on Tuesday, December 20. Tip off is set for 15 minutes after the conclusion of the 5:30pm Junior Varsity contest.
Go Lady Chargers!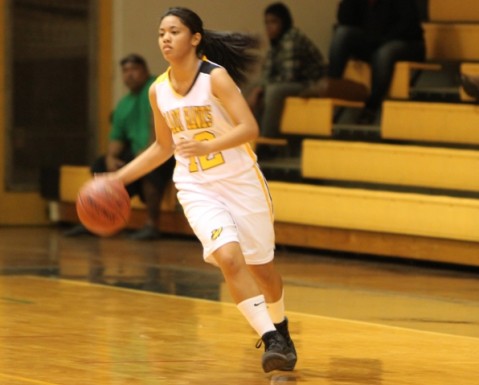 Photo by Barry Villamil | [email protected]
Nanakuli's #12 Jasmine Saole led the Lady Golden Hawks with 13 points.

Junior Varsity
Nanakuli 35 Pearl City 22