The Pearl City Chargers Varsity Boys and Girls soccer teams had their way with the visiting Radford Rams last night in OIA Red Western Division competition, sweeping the Rams 3-0 (Girls) and 2-0 (Boys).
Nikki Suwa scored two goals and Lauren Takai added one goal for the Lady Chargers who improved to 3-0-3. Mililani (5-0-1), Pearl City (3-0-3), and Kapolei (4-1-1) sit in the top three spots in league play.
Tyler Braunthal and Andrew Tanaka both scored a goal for the Chargers in their win over Radford. The Chargers start the early season off at 2-0. Mililani (3-0), Kapolei (2-0), Pearl City (2-0), and Campbell (2-0) are all undefeated in league play.
The Lady Chargers Girls Junior Varsity team defeated the Lady Rams 9-0 in an earlier 4:00pm contest.
The Chargers travel to Waialua to take on the Bulldogs on Tuesday, December 27.
Junior Varisty Girls: 4:00pm
Varsity Girls: 5:30pm
Varsity Boys: 7:15pm
Go Chargers!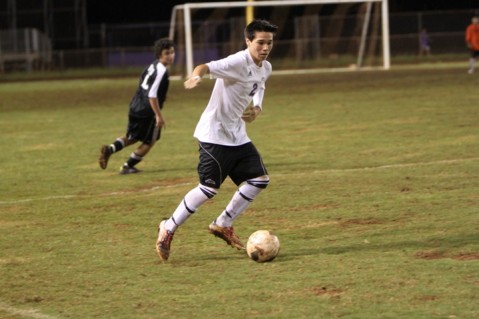 Photo by Barry Villamil | [email protected]
#2 Tyler Braunthal scored one goal for Pearl City against Radford in the Chargers 2-0 win.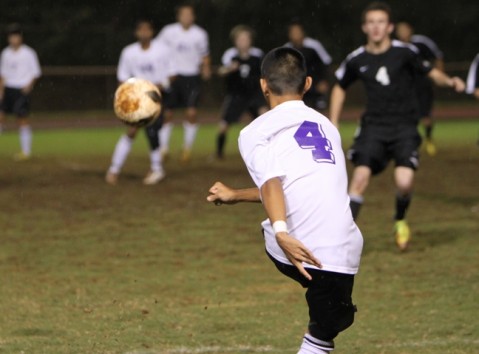 Photo by Barry Villamil | [email protected]
#4 Andrew Tanaka also contirbuted one goal in the Chargers win over Radford.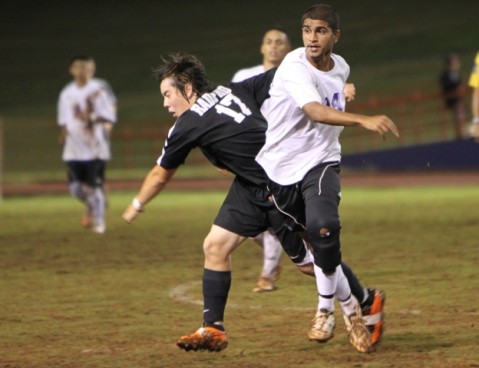 Photo by Barry Villamil | [email protected]
Pearl City's #14 Mohammed Khan pictured going all out in the rain and mud on Thursday, December 22 at Pearl City High School's Edwin "Bino" Neves Stadium.