For David Hallums a dream has just come true. Hallums returns to his Pearl City High School alma mater to take the helm as the new Head Coach for the Chargers football program. The hiring of Hallums was announced at noon today by the Pearl City High School administration.
"This is very exciting," said Hallums. "First of all, I'm humbled and thrilled and at the same time I'm just filled with the excitement of going back to my alma mater that I've always loved, always cared for, and always kept track of. I'm looking forward to working with the kids."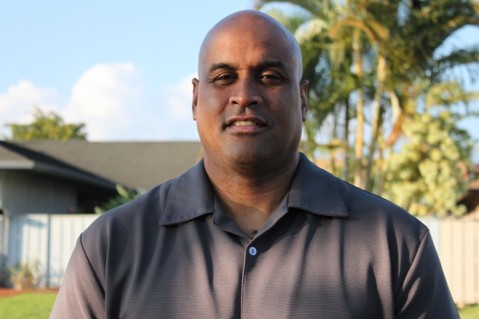 Photo by Barry Villamil | barry@mypearlcity.com
Newly hired Pearl City Chargers Head Coach, David Hallums.

Hallums has kept a close connection to Pearl City High School athletics since his graduation in 1984 as a highly decorated all star selection in both football and basketball and after a very successful college basketball career at Brigham Young University Hawaii and the University of Hawaii.
He has returned to the school in the past to help out with the football and basketball programs. He is grateful for guidance and encouragement he has received from his former coaches such as former Chargers Varsity Basketball Head Coach and Athletic Director, Roy Ichinose.
"Coach Roy Ichinose had a big affect on me," Hallums said. "He would ask if I was available so I would come up just to help with basketball. I always kept track of what football was all about because that was always my favorite sport to actually play and watch and coach."
Hallums has been fortunate to work with some of Hawaii's best High School Athletic Directors that have given him the opportunity to learn and grow as a coach.
"I've always been surrounded by Athletic Directors that were very instrumental in the football program," Hallums said. "Neil Takamori at McKinley and Richard Townsend at Leilehua. Townsend gave me my first coaching opportunity as a head coach in 1993 and 94. It was my first endeavor as a coach on any level. I was taught on how to have our kids be held accountable and also being accountable as a staff, and to bring in quality guys to help cultivate your vision."
First order of business for Coach Hallums is put together a solid quality coaching staff that will buy into his system and program philosophy.
"My first thing is to get my staff together," Hallums said. "I'm treating this as a Norm Chow situation. I want to treat these kids like young men and I'm very humbled to go back to the school. These kids will make me better. Again, the first order of business is to assemble my staff. I've already talked to several people on how committed they can be because I need those that will follow through on what I'm all about. They know what my philosophy is as far as life. I'm not perfect, but when it comes to following through with the kids, they know what I expect. It's accountability. No one is going to bigger than the program. No one is going to be bigger than the school. We represent more than just the game itself."
Hallums follows former Chargers Head Coach Kai Kamaka who was not retained after his contract expired at the end of the 2011 season. Kamaka recorded the football programs most successful season winning the OIA White Division regular season championship with an 8-0 record.
The Chargers new Head Coach will bring on board a couple coaches from the previous Kamaka staff. as well run similar offensive and defensive schemes.
"There are a couple people on the current staff that I asked to stick around if they feel they want to be a part of it," Hallums said.. "Sean Na'auao who I will keep as an offensive line coach. Guy Paredes who was the JV Head Coach and won the Junior Varsity Championship. He will probably stay with the JV but I want him involved with the varsity a little bit more. I want him to do his thing down there but also understand why I'm doing what I'm doing. I played with Guy in High School. The JV program has to mirror what we do on the Varsity."
Coach Hallums is also planning on running similar offensive and defensive schemes.
"On the offensive side of the ball we're not going to tweak it too much. We ran almost a similar offense at McKinley," Hallums said. "I love that offense. I love the spread. Back in high school we ran a double slot. We just threw it around. Obviously we're quick. so we're going to stay with the multiple formations. We're also going to able to run out of that formation a lot. Our base will be four wide and sometimes no backs. I like what Coach Kai was doing up there. I spoke to Kai and I love watching what they do as a team and I'm not going to tweak much."
Coach Hallums will inherit experience on the offensive side of the ball with returning QB Kaimi Paredes who was voted as the OIA White Division Offensive Player of the Year for 2011. Also back on the receiving end is OIA White Division All Star at Wide Receiver Daicorri Briscoe.
On the defensive side, Coach Hallums brings experience in Pearl City High School alumni Tino Moe.
"On defense our defensive coordinator is going to be Tino Moe," Hallums said. "He is a class of '83 graduate from Pearl City. He was with me at McKinley. We're just going to stay in a base. We can either go with an odd man or even front. It depends on what he wants to bring to the table. I want to be an attacking defense."
It looks like it's going to be an exciting future for the Pearl City Chargers football program, their fans and supporters. We wish Coach Hallums all the success as he leads the Chargers towards the 2012 season.
"I'm just as excited and can't wait to work with everyone on the campus and get back to Pearl City High School," Hallums said with pride. "I know the alma mater off hand. All my staff is going to learn it. I sing it all the time.
Good Luck Coach Hallums. Go Chargers!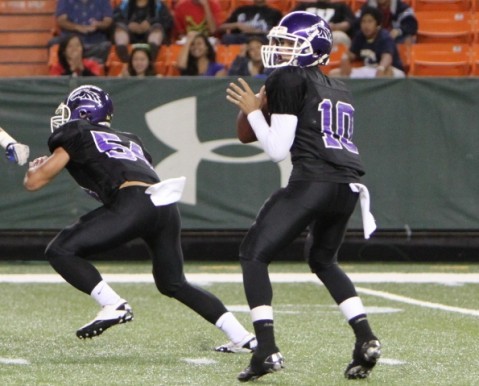 Photo by Barry Villamil | barry@mypearlcity.com
Chargers QB Kaimi Paredes who was voted as the OIA White Division Offensive Player of the Year for 2011 will be back for his senior year to give Coach Hallums experience and leadership on the offensive side of the ball.