The Pearl City High School soccer program turned it up a notch Tuesday night in OIA Red Western Division competition sweeping the visiting Aiea Na Ali'i in the varsity boys (1-0), varsity girls (3-2) and junior varsity girls (6-0).
It was also "Senior Night" for eight Lady Chargers as their teammates, coaches, family and friends said Aloha to the girls as they played in their last regular season home game.
Senior Lady Chargers:
#3 Tyla Barnett, #9 Christina Maeda, #10 Lyndsey Watanabe, #15 Melanie Tashiro,
#21 Kayla Tanaid, #23 Tiffany Yamanouchi,#25 Kaleigh Concepcion and #26 Keila Duldulao.
With the win over Aiea the Lady Chargers improved to 5-0-3 in league play.
Goals:
PC – Lauren Takai 1, Shauny-Brooke Yamura 1, Kristen Maeno 1
Aiea – Raisa Strom-Okimoto 2
Varsity Boys: PC 1 Aiea 0
The Chargers varsity boys squad got by the Na Ali'i 1-0 on a goal by George Georgiev. Pearl City improved to 4-0 in the OIA Red Western Division.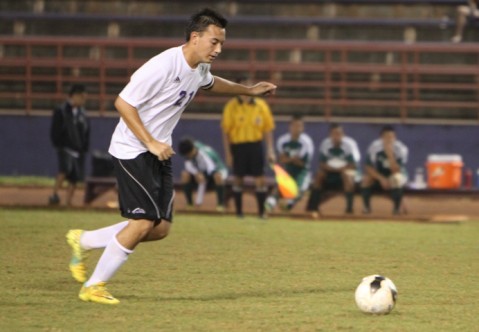 . Photo by Barry Villamil | barry@mypearlcity.com
Pearl City's #21 George Georgiev pictured against Aiea. Georgiev scored the games only goal in the Chargers 1-0 win.
Junior Varsity Girls : PC 6 Aiea 0
The Chargers junior varsity girls had no problem in their match up with the Lady Na Ali'i on Tuesday shutting out Aiea 6-0.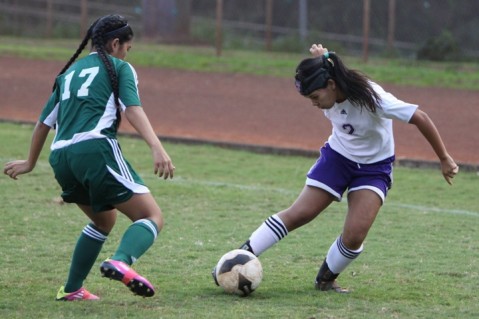 Photo by Barry Villamil | barry@mypearlcity.com
Lady Chargers sophomore #2 Joceylyn Owan makes a move against a Lady Na Ali'i defender during the junior varsity's 6-0 win over Aiea on Tuesday, January 3, 2012 at Pearl City High School's Edwin "Bino" Neves Stadium.

The Chargers will be on the road at Waipahu High School to take on the Marauders on Friday, January 6. The junior varsity game is scheduled for 4:00pm. Varsity Girls: 5:30pm. Varsity Boys: 7:15pm.
Go Chargers!