The newly opened Pearl City Urgent Care Center located at 1245 Kuala Street in Pearl City held a Ribbon Cutting Ceremony during their Grand Opening celebration on Wednesday, January 4, 2012.
Community and business leaders and guests were invited to join Pearl City Urgent Care Center's Chief Executive Officer, Donna Schmidt and Partner and Medical Director of the facility, Dr. Melanie Kelly during the Grand Opening festivities that included a tour of the 2347 square foot Urgent Care Center that was followed by light refreshments.
Pearl City Urgent Care is positioning it services to provide for the immediate medical care needs of the community while filling the void after the recent closing of Hawaii Medical Centers (HMC East and HMC West).
"I really want the community to know that we're here," said Schmidt. "Visit our web site www.PearlCityUrgentCare.com and take a look at all the things that we do. Understand what we can do and utilize us. We don't want to be overused, we don't want to be under utilized. Yesterday I think we had maybe eight patients in here and every emergency room on Oahu was on diversion. Every emergency room was on divert which meant the ambulances were told every emergency room they called they said divert. That was an example of how we're not using all of our resources and there were people in need and we're fully staffed and we're not being utilized. We're here to serve."
Dr. Melanie Kelly brings a wealth of experience in her role as a Partner and Medical Director for the Pearl City Urgent Care Center. Dr. Kelly has been an Emergency Medicine Physician in Hawaii for over 25 years.
"My very first job after my residency was with Waianae Comp in their E.R. which functions as a high level urgent care," said Kelly. "That's one of the places that we would like to emulate."
Dr. Kelly is appreciative of the vision of owner and CEO Donna Schmidt to build an emergency care facility that can serve the community while providing and accommodating their patient's needs as they grow.
"I think it was really fortuitous that the owner, majority owner Donna Schmidt, that her vision was to have something this big," Kelly said. "I'm glad she didn't start small and then we had to add on. This was here to begin with. It was a godsend that we set up to have x-ray capabilities, a laboratory, IV capabilities and everything."
Honolulu City Councilman Breene Harimoto who represents Pearl City and Aiea and State Representative Mark K. Takai who also represents Pearl City and Aiea both commented on the importance and need of this type of emergency care facility in our Pearl City community that can also have an affect on serving our neighboring communities as well.
"This is a great facility to serve our community with the ER's so full and back logged", said Councilman Harimoto. "This is great to have this right in our community to service our folks here. This facility at this time is really perfect for us."
"This facility is very important," said Representative Takai. "Pearl City and Aiea is pretty much the center of the universe because it serves a lot of people from Central and Leeward Oahu as well as town side. This is totally appropriate. It not only saves money but it allows people to get faster care. I anticipate that within a year this place will need to expand."
"We can do anything an emergency room can do but not life threatening," Schmidt added. "We want to let the community to know if they are sick or uncomfortable, rather than going to an emergency room they can come here."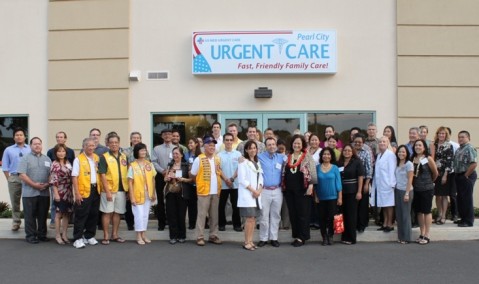 Photo by Barry Villamil | [email protected]
For more information, visit www.PearlCityUrgentCare.com
Pearl City Urgent Care: 808-456-2273