The tension level has just about reached the maximum as Pearl City prepares to take a shot at sole possession of first place in the OIA Red Western Division after defeating Leilehua 44-35 on Thursday, January 5th at Leilehua High School.
Pearl City (8-0) knocked Leilehua (7-1) out of the unbeaten ranks and will face Mililani (8-0) tonight at 6:30pm at Pearl City High School with the winner taking over the league's top spot with one game remaining in the regular season.
On Thursday, Pearl City found themselves in a battle with Leilehua trailing the Lady Mules 24-21 at the half. Leilehua's #11 Jerri Maluyo dropped a 3-point shot at the buzzer to end the second period and break a 21-21 tie.
Pearl City entered the fourth period down by one point to Leilehua at 29-28. The Lady Chargers turned it on in the final period outscoring the Lady Mules 16-6.
Lady Chargers Head Coach Michael Morton prepared his squad to move the ball against the Lady Mules zone defense.
"We knew they were going to play zone so we had to move the ball and be very patient and we hit some shots," said Morton. "It was big."
Entering the ball game Coach Morton was concerned about competing against Leilehua's size underneath but the Lady Chargers held their ground and actually out rebounded the Lady Mules.
"Today we out rebounded them," Morton said. "We were worried about #14 underneath so they played really good defense."
Scoring:
Pearl City's #3 Adrienne Jean Sylva led the Lady Chargers with 12 points followed by Shawna Angle 10, Sabrina Angle 9, Tiari Walker 7, Krystynn Naputi 4, Michelle Wilke 2.
#14 Carissa McBride was the top scorer with 12 points for Leilehua followed by Jerri Maluyo 9, Maria Ross 6, Tiffany Reyher 6, Jazmyn Dangaran 2.
@ Leilehua High School
1 2 3 4 T
Pearl City (8-0) 12 9 7 16 44
Leilehua (7-1) 14 10 5 6 35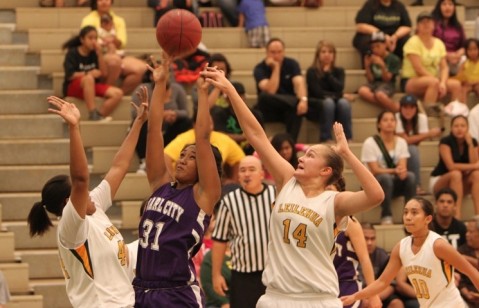 Photo by Barry Villamil | barry@mypearlcity.com
Pearl City's #31 Krystynn Naputi battles #44 Maria Ross and #14 Carissa McBride under the basket for a rebound.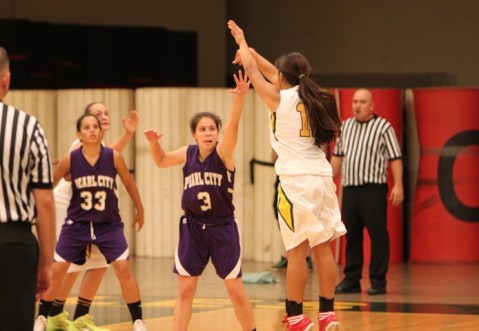 Photo by Barry Villamil | barry@mypearlcity.com
Leilehua's #11 Jerri Maluyo drops a 3-point shot at the end of the 2nd period to give the Lady Mules a 24-21 lead going into the half against Pearl City.