MyPearlCity.com is honored to have the opportunity to present the accomplishments and future goals of Timothy Iinuma who is currently a senior at Pearl City High School. Timothy has the distinction of being our first PC I.N.K. – Incredible Neighborhood Kids "difference maker" to be recognized from our community.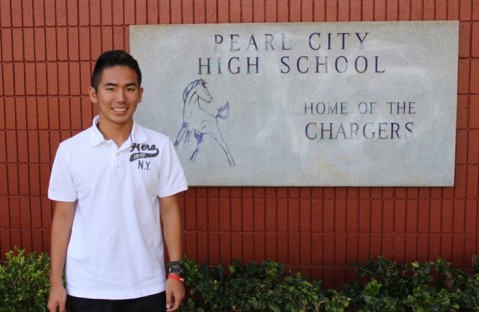 Photo by Barry Villamil | barry@mypearlcity.com
Timothy is an intelligent, motivated individual that has an extraordinary ability to organize and execute his leadership skills on special projects that have benefited his school and community.
As a Life Scout in the Boy Scouts, Timothy decided to take his Eagle Service Learning Project during his junior year to Pearl City High School to fix a flooding problem the school was experiencing in front of the school Library during heavy rains.
Planning began in August of 2010 with the actual work completed on February 26, 2011. Local construction companies, businesses, Boy Scout Troop 32, community volunteers, Pearl City High School staff and students all contributed their time and resources to insure the projects success.
"I made a swell which redirected water away from the sidewalk, said Timothy. "When it rains, the heavily used walkway is flooded and the water can rise about two inches above the sidewalk. That makes it pretty much so no one can walk through that sidewalk. What I did with the community's support is I was able to make swell. A swell is like a trench. With the trench you can control the direction of the water flow."
Iinuma didn't have to wait long to see if his Eagle Service Learning Project would redirect the water during a down pour.
"Luckily that week it poured. That week, and the weeks after it just started pouring. You could see the water being redirected away and the sidewalk was all dry. It worked!"
Timothy is currently working on producing a thirty second Pedestrian Safety commercial for his senior project that he hopes to complete by February of 2012. He would like to concentrate the content of his commercial on presenting the reactions of individuals involved in fatal pedestrian accidents that he hopes to broadcast state wide with the support of local media.
"The commercial will show a pedestrian crossing the road but these teenagers are
distracted. They eventually hit the pedestrian. Their reaction is in shock that they killed
somebody. I want to capture the expression because when you see videos you don't see
the expression. I want to show the other side that people don't see."
Timothy has yet to choose where he will attend college upon graduation from Pearl City High School, but is interested in becoming an FBI Agent. He has a game plan that includes the option of possibly joining the military or HPD.
"I'm interested in Law Enforcement. I would like to be an FBI Agent. I'm still undecided on which college I want to go to but I want to major in criminal justice. At the same time, I also want to be in ROTC, so I was going to join the military first, and then serve my years and hopefully get into the agency from there."
"When I see a police officer on duty, you know they always give back to the community. I would like to give back to the community. I also like to help people. I grew up being around police officers. Watching them help others kind of inspired me to do the same."
Timothy's has also produced a drug awareness video that was viewed by the DEA that may be used to educate students on the dangers of drug use.
"You know I also made a drug awareness video and I showed it to the DEA Agents and they really liked it. They would like to use that video to show to students."
Timothy is focused and pointed towards the bright light that guides his future. A future that will truly benefit those in his path and the communities he touches as he fulfills his personal and professional career dreams.
MyPearlCity.com would like to wish Timothy much success in the future!
Mahalo to Pearl City High School Principal, Carlyn Fujimoto and Vice Principal, Aaron Tominaga for recommending Timothy Iinuma as our PC INK – Incredible Neighborhood Kids selection for the month of January 2012.