It's been a very productive season for the Pearl City Lady Chargers Junior Varsity Girls Soccer team. The Lady Chargers captured the Oahu Interscholastic Association Red Western Division regular season championship on January 10th with a perfect 8-0 record and now have their sites set on winning the upcoming OIA Red Division JV Championship which begins this Thursday, January 19th at Pearl City High School.
Actually the team set their goals of winning an overall OIA Championship from the beginning of the regular season.
"In terms of winning the west, we really didn't even celebrate that or concentrate on that at all," said Lady Chargers Assistant Coach Tricia Ejima. "It wasn't our angle when we started the season. We asked the girls what was their number #1 goal was and it was to win a championship."
The Lady Chargers W1 (8-0) will play Kaiser E2 (7-1) on Thursday at 7:00pm in the second game of the OIA semifinal doubleheader at Pearl City High School's Edwin "Bino" Neves Stadium. Kahuku E1 (8-0) will take on Mililani W2 (7-1) at 5:30pm.
The winners will meet for the OIA Red Division Championship at 5:30pm on Saturday, January 21 at Leilehua High School.
The Lady Chargers will embark upon new ground with regards to the 7:00pm start time for their semifinal match up with Kaiser.
"We've never had to play after someone before," said Lady Chargers Head Coach Daphne Okunaga. "Normally we play first. I think we're a little concerned about that so we just need to structure the warm up differently, but I think they'll come out ready to play."
Head Coach Okunaga is preparing the Lady Chargers to face a tough Lady Cougars squad.
"Kaiser overall as a team looks good," Okunaga said. "If we don't come out ready to play I don't think we're going to have the outcome we want."
"We pretty much play the same type of soccer," added Coach Ejima. "We're a more positioned based team. More of a skilled based team in terms of trying to move the ball. We don't play kick ball so it's going to be a good match up both ways. I expect it to be a really good game all the way to the wire."
The Lady Chargers coaching staff has learned to merge their coaching style of intensity and competitiveness with the energetic personalities of the girls.
"They definitely have a personality," Coach Okunaga said. "They tend to be really exuberant, loud, and jovial and sometimes not as serious, but I think that can be an advantage too. For us, it's a good balance because as coaches we're always so intense and competitive. Together we have a good mix."
Coach Okunaga and Coach Ejima know a thing about playing with intensity, being competitive and winning championships as former Lady Charger's teammates in the late 90's. They also know how to build leaders, along with the rest of the Lady Chargers coaching staff and are appreciative to be blessed with great talent and leadership skills from both the sophomore and freshmen class.
"We have good leaders," Coach Okunaga said. "The sophomores have been pretty good leaders and our group of freshmen is a really good bunch. We knew it would be key to have a talented and motivated freshman class. Our team compliments each others strengths and weaknesses so it balances out."
"There has always been one missing piece or just one missing person that kind of didn't make that full team," Coach Ejima said. This year we have all the pieces its just a matter of having them work together."
Congratulations and Good Luck in the OIA Championship Tournament!
Go Lady Chargers!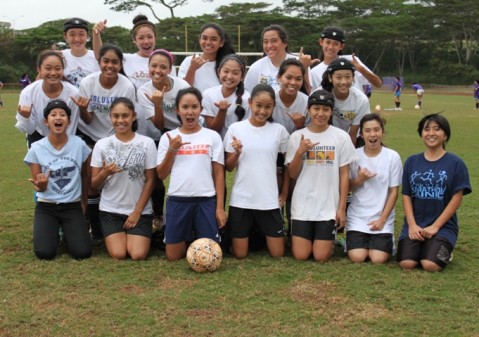 Photo by Barry Villamil | [email protected]
2011/2012 OIA Red Western Division Champions!
2011/2012 OIA Red Western Division Regular Season Results:
W-8 L-0
11/29/11 Pearl City 6 Leilehua 0 W
12/02/11 Pearl City 3 Kapolei 0 W
12/08/11 Pearl City 1 Mililani 0 W
12/19/11 Pearl City 3 Waianae 0 W
12/22/11 Pearl City 9 Radford 0 W
01/03/12 Pearl City 6 Aiea 0 W
01/06/12 Pearl City 5 Waipahu 0 W
01/10/12 Pearl City 2 Campbell 0 W