Pearl City's Tiari Walker put in a career performance last night to lead the Lady Chargers over the visiting Kahuku Lady Red Raiders 50-45 in the second round of the Oahu Interscholastic Association Girls Red Division Varsity Basketball Playoffs.
Walker's 14 points, and non stop hustle along with the steady, pressing, running attack from her senior led teammates propelled the Lady Chargers over OIA East powerhouse Kahuku.
Pearl City controlled the first half going out to a 10 point lead 26-16 to end the second period. Kahuku mounted a charge in the fourth period outscoring the Lady Chargers 21-16 and pulling within five points but came up short. Pearl City's ball movement and quickness sealed the win.
A win over a top ranked East opponent hasn't come easy in the past for the Lady Chargers. Friday night's win over Kahuku cleared a hurdle in the team's quest for a championship.
"We finally took care of business tonight and finally beat the East like we should," said Lady Chargers Head Coach Mike Morton. "Our senior leadership shows. The girls played great tonight. We just gotta touch up on some little mistakes that shouldn't be happening in the last few minutes, but other than that we played so hard. We played tough."
Playing hard and playing tough is part of Tiari Walker's DNA. From jump ball to the final buzzer it's a 110% effort. Friday night's performance served in providing the blueprint for her success as well as the success of her team.
"Tiari played hard," Morton said. "I can't say how much effort she puts in every game. She's our defender. She had the most steals tonight."
The Lady Chargers move on to the next round in the OIA Girls Red Division Varsity Basketball Playoffs and will face off with the undefeated OIA Red Eastern Division Champion Kaimuki (12-0) on Tuesday, January 24th at Kaimuki High School. Tip off is set for 6:00pm. Kaimuki defeated Kapolei (7-4) 55-39 on Friday to advance.
Pearl City is familiar with the style of play that Kaimuki will bring to next week's match up. A pre-season loss to the Lady Bulldogs gave the Lady Chargers a valuable learning experience which will allow the team to make the right adjustments the second time around.
"We know Kaimuki," Morton said. "We played them in the pre-season. We lost to them but it was a good game for us. It was a real eye opener. Kaimuki is very disciplined so we have to be more disciplined and that's just the way I coach. We'll be ready."
*Pearl City clinched a state tournament berth in next month's HHSAA Girls Varsity Basketball State Championships with the win over Kahuku.

Top Scorers:
Pearl City: Tiari Walker 14, Shawna Angle 10, Sabrina Angle 9 (one-3 pointer), Krystynn Naputi 8, Adrienne Jean Sylva 6 and Dani Magana 3.
Kahuku: Leighlani Paselio 18, Pati Anae 8. Uluakimata "Mata" Tonga 8, Jaelynn Kaio-Scott 5, Fiatagata "Fia" Tailele-Latu 4 and Trya Williams 2.
@ Pearl City High School
1 2 3 4 F
Kahuku (9-3) 10 6 8 21 45
Pearl City (10-1) 14 12 8 16 50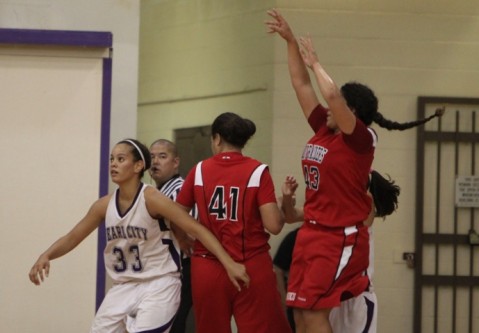 Photo by Barry Villamil | barry@mypearlcity.com
Kahuku's #43 Leighlani Paselio pictured scoring two of her game high 18 points against the Pearl City Lady Chargers.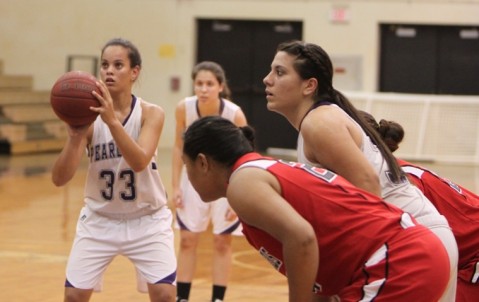 Photo by Barry Villamil | barry@mypearlcity.com
#33 Tiari Walker led Pearl City with 14 points in the Lady Chargers 50-45 second round win over the visiting Kahuku Lady Red Raiders on Friday, January 20, 2012.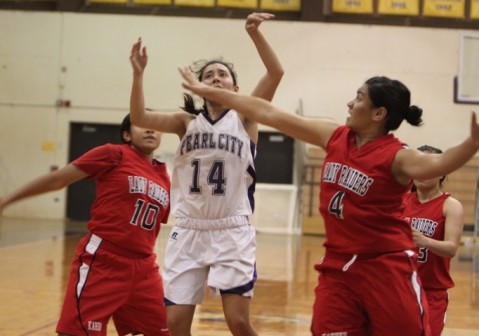 Photo by Barry Villamil | barry@mypearlcity.com
#14 Shawna Angle pumped in 10 points for the Lady Chargers. Angle pictured here shooting over the Lady Red Raiders defense for two points.

Go Lady Chargers!