Submitted by Coach Eiichi Jumawan:
We have a boxing event again at the Momilani Community Center this Saturday night at 6pm.
Tickets are $12 adults, $7 ages 8-16, age 7 & under Free! We have boxers from, Kauai and Oahu competing and it's going to be another exciting night of action packed amateur fights!
So far we have 5 boxers from our PEARLSIDE boxing club participating, highlighted by our own Maika Samson-Giron who was last year's State PAL and Jr. Olympic Champion at 11yrs old and 75lbs; Casey Nitta from Mililani shows great potential to follow in Maika's footsteps as a future Jr. Olympic Champion for 2012. Richard Ballesteros who lives in Waipahu is a new kid with thunder in his fists and is always brings excitement in his fights.
Waipahu's highly decorated Keoni Adric Jr., a National PAL & National Ringside tournament Champion is set to box against TNT's (Honolulu) Cole Dante; and we all know the rough and tumble Waianae Boxing Club will always bring out their bangers led by 152lb. Presley Salas. Nainoa Dung from Waianae will be going up against one of Hawaii's best up & coming boxers in Wilson Savedra!
It will be a rock & roll night of boxing and we hope to draw a good crowd on Saturday night.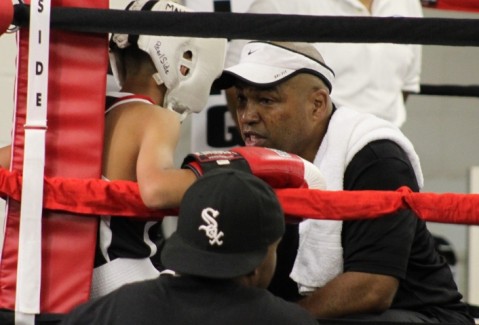 Photo by Barry Villamil | barry@mypearlcity.com
Coach Eiichi Jumawan pictured working in the corner with Maika Samson-Giron during the October 8, 2011 PEARLSIDE Boxing Show at the Momilani Community Center. Maika was last year's State PAL and Jr. Olympic Champion at 11yrs old and 75lbs.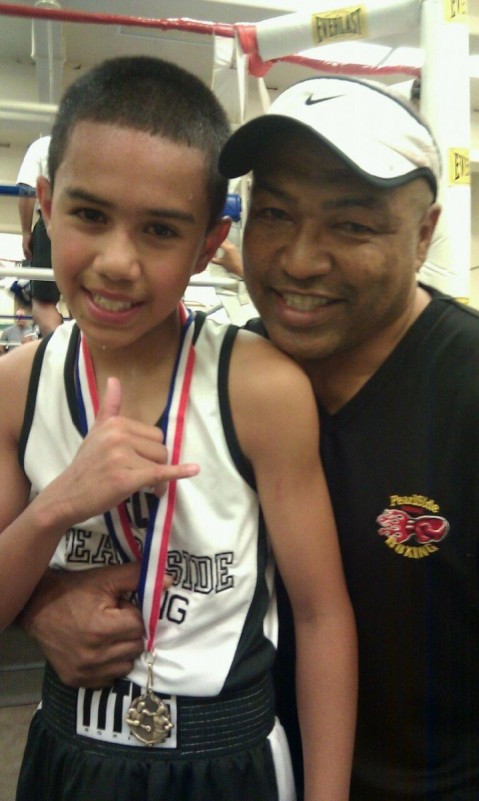 Photo courtesy of Coach Eiichi Jumawan
Coach Jumawan pictured with boxing champion Maika Samson-Giron.