The Pearl City Lady Chargers used a tough defense to turn back previously unbeaten Kaimuki 32-29 in the quarterfinals of the Oahu Interscholastic Association Red Division Girls Varsity Basketball playoffs on Tuesday, January 24, 2012 at Kaimuki High School.
Pearl City (11-1) advances to the semifinals and will host Roosevelt (10-4) on Saturday, January 28th at 6:00pm. Roosevelt beat Kaiser 50-49 Tuesday night on a last second lay up as time ran.
Pearl City's (West #2 seed) victory over the East #1 seed Kaimuki Lady Bulldogs (12-1) makes it two in a row against OIA Red Eastern competition in the tournament. The Lady Chargers beat Kahuku on Friday, January 20, 50-45.
"This feels great," said Pearl City Lady Chargers Head Coach Mike Morton."We finally got this monkey off our back beating a tough East team that went undefeated in the regular season. This is unheard of and our girls played out of their minds on defense. We played such great defense. A couple times on offense at the end we shot when we didn't have to shoot because we were fighting the clock, but you know what, we're still learning. I'm so proud our girls. They deserve it."
Pearl City's quickness on offense and excellent ball movement skills has the Lady Chargers clicking on all cylinders.
"On offense we did good," Morton said. "We moved the ball around a lot. We had some open looks inside and out. Just a little turnovers here and there but we did really good. I can't ask for a better game and this is the kind of game we need, a close game."
Scoring Summary:
The Lady Chargers took an early 3-0 lead in the first period on Sabrina Angle's 3-pointer. Pearl City led after the first period 11-8. Kaimuki's Ashley Savusa picked 7 of her 17 points in the period.
Pearl City led after the second period 17-14. Savusa hit two 3-pointers to pull the Lady Bulldogs within three points of the Lady Chargers going into the half.
Kaimuki pulled within one point of Pearl City at 17-16 on a bucket by Savusa to start the third period. At 4:30 of the third period, Kaimuki's Canny Aikau drained a 3-pointer to give the Lady Bulldogs their first lead of the ball game at 19-17. Pearl City's Dani Magana came back on the Lady Chargers next possession to tie the score at 19-19. Kaimuki went back on top 22-19 on a 3-pointer by Dejah Fa'asoa. Magana tied the score at 22-22 on two free throws at 3:02 in the period. Savusa scored for Kaimuki to take back the lead at 24-22. Sabrina Angle tied it up on a basket at 24-24. The third period ended at 24-24.
Pearl City broke the 24-24 tie to open the fourth period on basket by Adrienne Jean Sylva. Tiari Walker put in a two points from under the basket to increase the Lady Chargers lead to 28-24 with 2:53 remaining in the final period. Kaimuki came right back to pull within one point at 28-27 on 3-pointer by Krysta Yasui. Sylva went to the free throw line converting 2 of 2 to put the Lady Chargers up 30-27 with 1:09 left on the game clock. Kaimuki closed within one point at 30-29 on basket by Keana Paez. Pearl City got the ball back with 13 seconds left after a missed Kaimuki shot and foul that sent Sylva back to the foul line. Sylva converted two free throws to cushion the Lady Chargers lead at 32-29. Pearl City got the ball back with 1 second and ran out the clock for the victory.
Leading Scorers:
Kaimuki: Ashley Savusa 17, Dejah Fa'asoa 3, Krysta Yasui 3, Canny Aikau 3, Kawena Paez 2, Shantaeus Ramos-Dias 1.
Pearl City: Adrienne Jean Sylva 12, Dani Magana 5, Sabrina Angle 5, (one 3-pointer), Krystynn Naputi 4, Tiari Walker 4, Shawna Angle 2.
@ Kaimuki High School
1 2 3 4 F
Pearl City (11-1) 11 6 7 8 32
Kaimuki (12-1) 8 6 10 5 29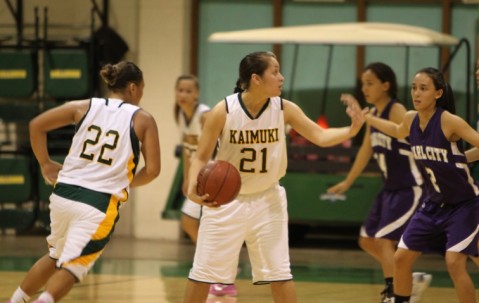 Photo by Barry Villamil | [email protected]
Kaimuki's #21 Ashley Savusa had a game high 17 points against Pearl City.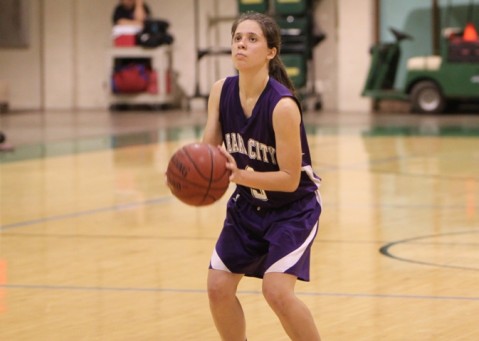 Photo by Barry Villamil | [email protected]
Pearl City's #3 Adrienne Jean Sylva led the Chargers with 12 points including going 4-4 from the free throw line down the stretch.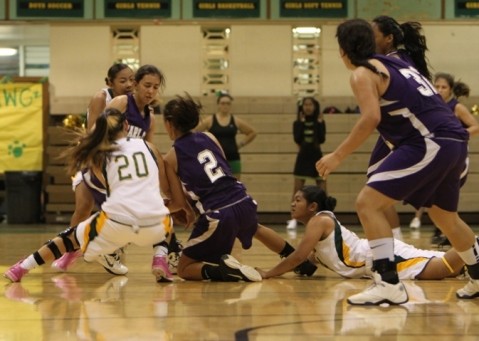 Photo by Barry Villamil | [email protected]
The Lady Chargers pictured fighting for the ball against the Lady Bulldogs in the first period.

Go Lady Chargers!