Pearl City defeated Aiea 3-0 last night to finish in 5th place in the Oahu Interscholastic Association Red Division Girls Varsity Soccer Championships played at Pearl City High School's Edwin "Bino Neves Stadium.
Moanalua captured the OIA Red Championship with a 2-0 win over Kapolei at Kapolei High School.
The Pearl City Lady Chargers (9-1-4) along with OIA Red Runner-up Kapolei ( 9-3-1), Kaiser (11-1-1), Mililani (10-2-1) and and Aiea (6-8-0) all advance to the first round of the HHSAA State Girls Division I Soccer Championships scheduled for Wednesday, February 1 – Saturday, February 4 at the Waipio Peninsula Soccer Complex.
OIA Red Champion Moanalua (10-0-3) received a first round bye in the HHSAA State Championships.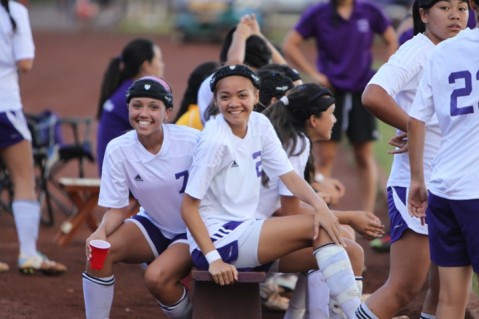 Photo by Barry Villamil | barry@mypearlcity.com
Go Lady Chargers!