The journey continues on towards an OIA Championship for the Pearl City Lady Chargers after defeating the visiting Roosevelt Lady Roughriders 41-36 last night in the semifinals of the Oahu Interscholastic Association's Red Division Girls Varsity Basketball Championship Tournament.
Pearl City (12-1) held off a late fourth period charge by Roosevelt (9-4) that brought the Lady Roughriders within three points of the lead at 39-36 with 15.8 seconds left in the ball game. Roosevelt's Kira Arruda converted to free throws to close to within one possession to possibly tie the contest.
Pearl City had a different idea on the outcome of the game and came right back scoring on Dani Magana's two point shot to put the Lady Chargers up 41-36.
The Lady Chargers controlled the ball game with their trademark tough defense and quick hands on offense. Pearl City entered the half with a 23-11 lead over Roosevelt. The Lady Roughriders actually hung around in the second half outscoring the Lady Chargers 9-4 in the third period and 16-14 in the fourth period.
Pearl City's Sabrina Angle led the Lady Chargers in scoring with 13 points followed by Tiari Walker's 10 points.
Roosevelt's Starr Rivera was the top scorer for the Lady Roughriders with 11 points which included two-3 pointers. Tatiana Mariano pumped in 10 points.
Saturday nights win put Pearl City in the OIA Red Division Championship game scheduled for Thursday at Radford High School. The Lady Chargers will face the winner of Tuesday's 5:00pm match up between Kaimuki (14-1) and Roosevelt (9-4) at Radford High School. The loser will be eliminated finishing in 3rd place in the championship tournament.
Tuesday's winner will be tasked with beating Pearl City twice in the double elimination formatted tournament. If Pearl City loses on Thursday, a second game will be scheduled for Saturday, February 4 in a "winner take all" at Farrington High School.
It's been a tough, hard fought, magical ride through the championship tournament for the Lady Chargers with three wins in a row against OIA Eastern Division opponents.
"The girls played so hard, said Pearl City Lady Chargers Head Coach Mike Morton. "Everybody was tired and they just kept fighting and fighting. I'm so proud of them. Our girls are just playing so tough right now and playing disciplined. It hasn't even sunk in that we won, it's so unbelievable. I'm just so happy right now."
If the Lady Chargers record win number four on Thursday against an OIA East opponent for the championship, it will come against either Kaimuki or Roosevelt who they have already beaten in the championship tournament.
Coach Morton was already preparing for Thursday's championship game while walking out of the Pearl City High School gym after the Lady Chargers win Saturday night.
"We play on Thursday and we're going to watch the game on Tuesday," Morton commented with regard to his strategy in preparing his team for the championship. "We're going to be ready. We're going to watch. We're going to do what we do best on Thursday and take away whatever they do good. Our best is playing good defense and holding team's down."
Playing good defense has been the key to the Lady Chargers success this season. Holding teams down is their bread and butter.
Go Lady Chargers!

@ Pearl City High School
1 2 3 4 F
Roosevelt (9-4) 3 8 9 16 36
Pearl City (12-1) 12 11 4 14 41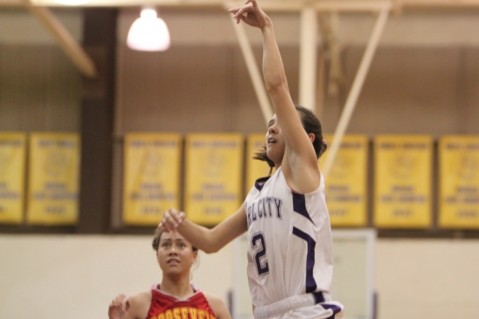 Photo by Barry Villamil | [email protected]
Pearl City's Sabrina Angle pictured putting in two of her game high13 points against Roosevelt.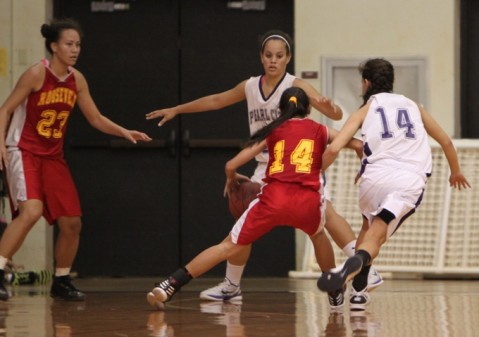 Photo by Barry Villamil | [email protected]
Roosevelt's #14 Starr Rivera attempts to make her way through the Pearl City defense (Tiari Walker #33 and Shawna Angle #14). Rivera led the Lady Roughriders with 11 points.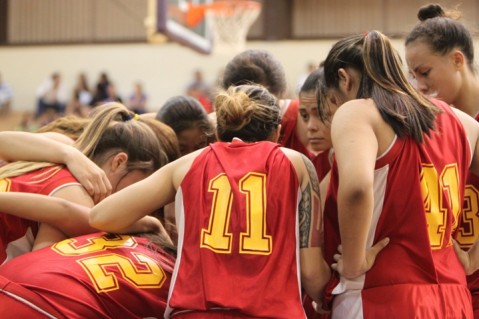 Photo by Barry Villamil | [email protected]
Roosevelt's #11 Breyana Dutro-Solomua fires up her teammates during a timeout against Pearl City.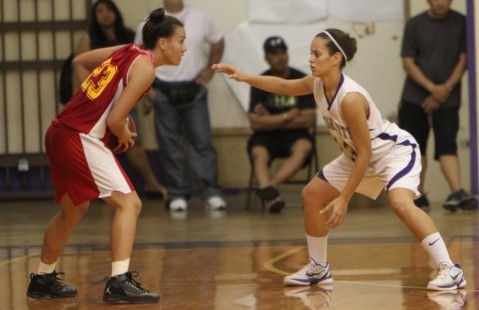 Photo by Barry Villamil | [email protected]
Pearl City's Tiari Walker plays an integral role in the success of the Lady Chargers defense at Center. Walker is pictured defending Roosevelt's #23 Kira Arruda late in fourth period. Walker would also pump in 10 points for the Lady Chargers.