The Kaimuki Lady Bulldogs made a statement last night with a 60-47 win over the Pearl City Lady Chargers at Radford High School that forced a "winner take all" game for the Oahu Interscholastic Association Red Division Girls Varsity Basketball Championship scheduled for Saturday, February 4 at 5:00pm at Farrington High School.
Kaimuki's Ashley Savusa lit up the scoreboard for the Lady Bulldogs with a game high 27 points. Pearl City's Adrienne Jean Sylva was the top scorer for the Lady Chargers with 14 points.
Thursday night's win over Pearl City avenged an earlier 32-29 loss to the Lady Chargers in the quarterfinals on Tuesday, January 24 at Kaimuki High School.
This time around the Lady Bulldogs jumped out in front of the Lady Chargers early building a quick 10-0 lead while establishing an aggressive tempo that carried Kaimuki through four periods of play.
"They came out aggressive and we came out passive, plain and simple," said Pearl City Lady Chargers Head Coach Mike Morton. "We started playing more aggressive later but it was too late already, they got the lead. They set the tempo."
Kaimuki built a 16-6 lead at the end of the first period. The Lady Bulldogs maintained their 10 point lead to end the second period at 30-20.
Pearl City chipped away at the lead in the second half but Kaimuki's aggressive offensive attack responded by breaking through the Lady Chargers defense to rebuild their lead.
Kaimuki's strategy to attack the Pearl City defense worked in their rematch Thursday night. It was actually a reversal between the teams with regard to who played the role of aggressor from their first meeting.
Coach Morton knows that his Pearl City squad needs to come out and take it to the Lady Bulldogs if they intend to win a championship on Saturday.
"We might come out just full court man," Morton said. "We'll be more aggressive from the start maybe. Just to pick it up. We gotta change something up. We're definitely going to work on something tomorrow."
Both Kaimuki and Pearl City have taken different roads to the championship game in the double elimination tournament format. Kaimuki knocked off Mililani, Kaiser and Roosevelt in that order since their quarterfinal loss to Pearl City. The Lady Chargers went on to defeat Roosevelt 41-36 on Saturday, January 28 before losing to the Lady Bulldogs Thursday night.


Top Scorers:

Kaimuki: Ashley Savusa 27 (one-3 pointer), Keana Paez 15, Canny Aikau 9 (one-3 pointer), Dejah Fa'asoa 6 (one-3 pointer), Krysta Yasui 3 (one-3 pointer).
Pearl City: Adrienne Jean Sylva 14 (three-3 pointers), Sabrina Angle 10, (three-3 pointers), Dani Magana 10, Shawna Angle 7, Tiari Walker 6.
@ Radford High School

1 2 3 4 F
Kaimuki (15-1) 16 14 12 18 60
Pearl City (12-2) 6 14 11 16 47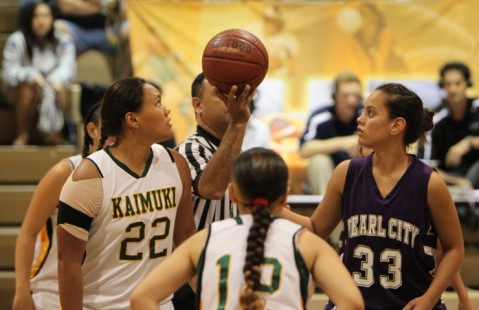 Photo by Barry Villamil | [email protected]
Seniors #22 Keana Paez (Kaimuki) and #33 Tiari Walker (Pearl City) will battle one more time on Saturday, February 4, 2012 for the most important jump ball of their high school basketball careers and a chance at winning an OIA Championship!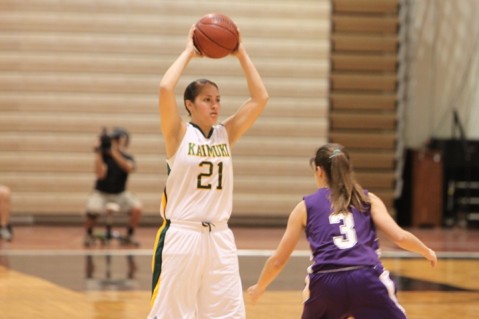 Photo by Barry Villamil | [email protected]
Top scorers; Kaimuki's #21 Ashley Savusa 27 points and Pearl City's #3 Adrienne Jean Sylva 14 points match up against each other during the Lady Bulldog's 60-47 win over the Lady Chargers.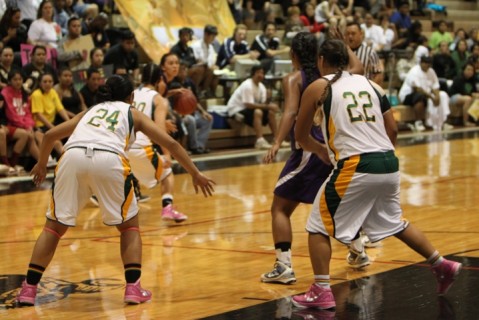 Photo by Barry Villamil | [email protected]
Pearl City will need to return to their quick, aggressive style of play against Kaimuki in Saturday's OIA Championship game.

Sabrina Angle looks for an opening in Kaimuki's defense during the Lady Chargers loss to the Lady Bulldogs on Friday, February 2, 2012 at Radford High School.

Go Lady Chargers!