The Pearl City Lady Chargers captured the Oahu Interscholastic Association's Red Division Girls Varsity Basketball Championship last night over the Kaimuki Lady Bulldogs 31-27 in overtime at Farrington High School.
The newly crowned OIA Champion Lady Chargers will always be remembered as the first team in the history of the Pearl City High School Athletics Program to bring home an OIA Girls Basketball Championship.
The Lady Chargers came into last night's championship game reeling from a 60-47 loss on Thursday to the Lady Bulldogs that forced a winner take all showdown for the championship. It was the third meeting between the two schools in the double elimination formatted tournament. Pearl City won the first contest 32-29 on Tuesday, January 24.
In the first match up, Pearl City slowed Kaimuki down forcing a low scoring game that was controlled by the Lady Chargers. In the second game, the Lady Bulldogs attacked the Lady Chargers defense by moving the ball inside in a complete reversal with regard to tempo and scoring output from their first meeting.
After a review of the game tape, Pearl City Lady Chargers Head Coach Mike Morton decided that his strategy for the championship would be to have his team work into a zone defense that would slow down the game and force a low scoring affair.
"The night after our loss to Kaimuki I stayed up until 2 o'clock in the morning breaking tape down," said Morton. "I said we're going to a match up zone and keep everything inside and let them shoot outside and we did great. We had to keep a low score just like the first win against them and that's what we did."
A low scoring championship game is exactly what Coach Morton received with Kaimuki taking a 6-4 lead after the first period and Pearl City coming back to outscore the Lady Bulldogs 9-5 in the second period to take a 13-11 halftime lead.
In the second half the two teams stayed relatively close with not much scoring from either squad. Kaimuki outscored Pearl City 9-8 in the third period and 3-2 in the fourth period. In the final minute of the final period, the Lady Bulldogs went into a stall to try and win it at the buzzer with the game tied at 23-23. The game went into a 4 minute overtime period after Kaimuki's Canny Aikau's missed a game winning shot attempt as time expired.
Pearl City outscored Kaimuki 8-4 in OT for the win and OIA Championship.
"This feels unbelievable," Morton said. "Nobody believed in us but our fans and our supporters and it's great. We worked so hard. Our coaching staff is a dream team staff and the girls just all bought in. There's no attitudes and they did so good and worked so hard for so many years and it pays off. No transfers, we did it with all Pearl City girls. You know, I would like to say thank you to Roy Ichinose the former AD for giving me the opportunity to coach here.This is great!"
"Words cannot express the happiness I have for these girls," said Assistant Lady Chargers Coach Jay Sylva. "They worked so hard. Nobody believed in us. To sum it up, these girls, they always believed. They always believed and as a coaching staff we're just so proud of them. Our previous losses was actually good because it gave us humbleness. It made us really focus more and it put us in the reality that we had to work harder to achieve what we wanted to do. In the beginning of the season this was our goal and we accomplished our goal. We're just so happy for the girls."
Through the excitement and celebration, MyPearlCity.com caught up with a few Lady Chargers to get their thoughts and feelings about their history making championship victory for their school and also gave them an opportunity to send out a few thank you's to those who have supported them through the years.
"This feels great," said Lady Chargers Center, Tiari Walker. "Actually we've been working hard since the first day when we came out for practice. I guess everybody thought that us, as Pearl City, we weren't going to be here today. We worked hard to prove that we were going to be good this year. Even though we won the OIA's were still going to practice hard fror the state's. I would like to say thank you especially to my grandpa up there, and to my parents, and everybody who supported me."
"This is amazing!" said Lady Chargers starting Guard, Shawna Angle. "We made like a lot of adjustments and we fixed our defense for this game because they scored alot of points against us. We played better, more as a team. I would like to thank all my coaches, family, friends and everybody who supported us."
"This feels pretty good knowing this is the first for our school," said Sabrina Angle (Shawna's sister and the other half of the Lady Chargers talented duo at the Guard position). "Hopefully we can get more in the future but its great to be the first to do it. I would also like to thank my coaches for all the support, all the training and the hard work."
Pearl City's Tiari Walker led all scorers last night with 11 points. Kaimuki's Keana Paez pumped in 8 points to lead the Lady Bulldogs.
Pearl City and Kaimuki both move on to the HHSAA State Girls Division I Basketball Championship Tournament that runs from Tuesday, February 7 – Friday, February 10.
Kaimuki will face Mililani in an opening first round match up on Tuesday, February 7, 7:00pm at Moanalua High School. #4 seed Pearl City received a first round bye and will play the winner of Tuesday's Kamehameha Kapalama/Kahuku first round game on Wednesday, February 8, 7:00pm at McKinley High School.
#1 Konawaena (BIIF Champion), #2 Iolani (ILH Champion) #3 Lahainaluna (MIL Champion) and #4 Pearl City (OIA Champion) round out the four seeded teams in the 12 team championship tournament.
Maui, Kaiser, KS-Kapalama, Kahuku, Kaimuki, Waiakea and Roosevelt represent the unseeded teams in the tournament.
Top Scorers:
Kaimuki: Keana Paez 8, Ashley Savusa 6, Dejah Fa'asoa 6, Krysta Yasui 5, Canny Aikau 2.
Pearl City: Tiari Walker 11, Sabrina Angle 5, Adrienne Jean Sylva 5, Shawna Angle 5, Dani Magana 5.
@ Farrington High School
1 2 3 4 OT F
Kaimuki (15-2) 6 5 9 3 4 27
Pearl City (13-2) 4 9 8 2 8 31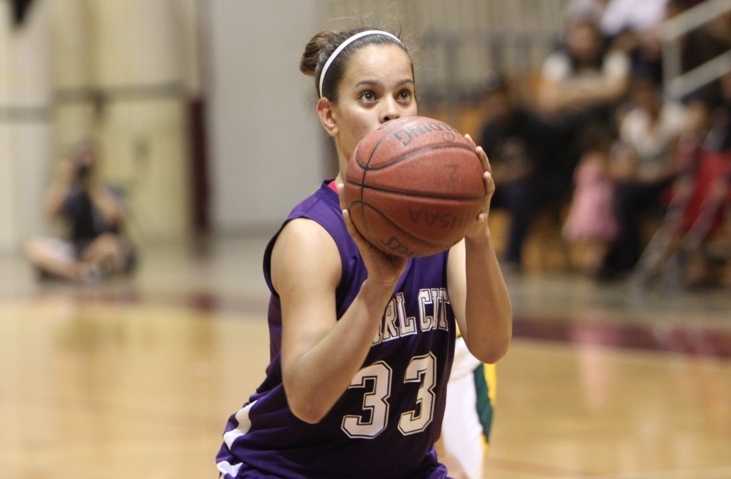 Photo by Barry Villamil | [email protected]
#33 Tiari Walker pictured at the free throw line down the stretch late in the fourth period against Kaimuki in the OIA Championship game. Walker had another strong performance on offense with 11 points to lead the Lady Chargers in scoring.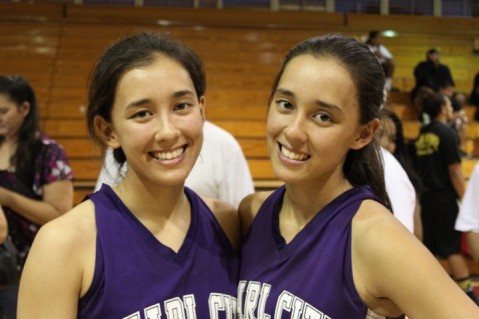 Photo by Barry Villamil | [email protected]
Shawna and Sabrina Angle. The Lady Chargers "dynamic duo" on both offense and defense. Awesome job!

Photo by Barry Villamil | [email protected]
#3 Adrienne Jean Sylva, the driving force behind the speed and quickness of the OIA Champion Pearl City Lady Chargers.

Photo by Barry Villamil | [email protected]
Pearl City's #32 Dani Magana is as tough as it gets down in the post. Magana is pictured grabbing a rebound against Kaimuki's #24 Dejah Fa'asoa in Saturday's OIA Championship game won by the Lady Chargers.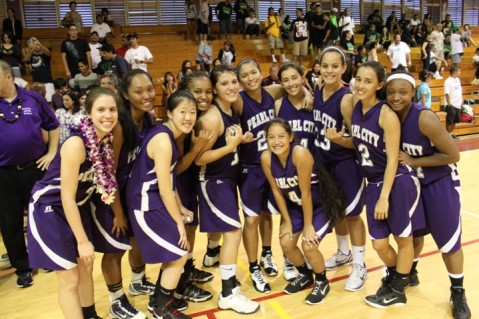 Photo by Barry Villamil | [email protected]
Pearl City Lady Chargers – 2012 OIA Red Division Girls Varsity Basketball Champions!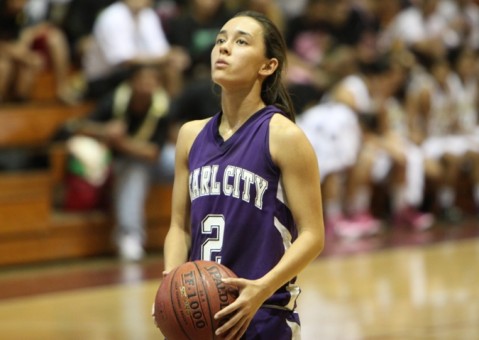 Photo by Barry Villamil | [email protected]
Excellence with Honor: It's a state of mind that breeds success while perpetuating Charger Pride!

Go Lady Chargers!
2012 Pearl City Lady Chargers
#2 Sabrina Angle
#3 Adrienne Jean Sylva
#4 Shawni Cayetano-Ramos
#10 Michelle Wilke
#14 Shawna Angle
#22 Sierra Tadiarca
#23 Alexia Blalock
#31 Krystynn Naputi
#32 Dani Magana
#33 Tiari Walker
44 Brandee Chun

Head Coach: Michael Morton
Assistant Coach: Jay Sylva
Jack Ofoia
Manager: Yubin Cho