A win for either Pearl City (9-4) or Moanalua (9-4) tonight at Farrington High School in the Oahu Interscholastic Association Boys Basketball Red Division Playoffs will not only secure a berth in next week's state tournament, but will also keep the winner in contention for an OIA Red Division Championship.
It's not going to be an easy task for the Chargers who will face an aggressive, run and gun style of offense in OIA Red East runner-up Moanalua. Pearl City Chargers Head Coach Lionel Villarmia has his team playing tough on defense so far in the tournament and is ready for the challenge.
"We play Moanalua at Farrington on Tuesday with the winner getting an automatic state birth," said Villarmia. " Moanalua is a very aggressive team. They like to run a lot of stuff and are well coached. They are a very disciplined team. As for us right now, our defense is keeping us in the game. We're holding everybody well below their averages. Looking at all the scores in the OIA tournament they are all close. There are no blowouts. Moanalua is going to throw a lot of different defenses against us too. If we can handle their traps we'll be okay."
The Pearl City Chargers have played steady ball throughout the season. Key players have stepped up to form a very productive nucleus of talent that has made a difference in the team's success.
"One of our key play makers is Kailon Sabate," Villarmia said. "He's starting to score for us and plays good defense. On defense we have Marc Suniga. Anybody that we want to shut down, he's our shutdown on the defense. I got four posts who are doing good right now that I can rotate. Kainoa Perez, Paul Perry, Tysen Hickcox, and Kapena Akiona. Those four guys are all inter-changeable. We're kind of deep at the post this year."
Both Pearl City and Moanalua are working their way through the losers bracket in the 12 team double elimination tournament format.
Pearl City defeated Castle in the opening round 41-38. They lost to OIA East Champ Kahuku 45-40 in the quarterfinals before beating Kaiser last Friday 37-35.
Moanalua defeated Miliani 46-40 in quarterfinals after a first round bye. They lost to OIA West Champ Kapolei 54-43 in the quarterfinals which dropped them into the losers bracket.
It's a must win for both teams tonight. Tip off is scheduled for 6:00pm at Farrington High School.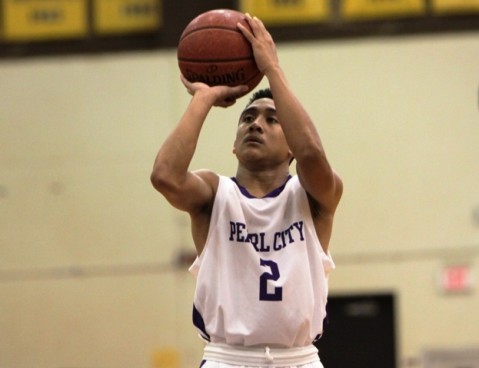 Photo by Barry Villamil | barry@mypearlcity.com
Pearl City's #2 Kailon Sabate has stepped up his game on offense for the Chargers this season.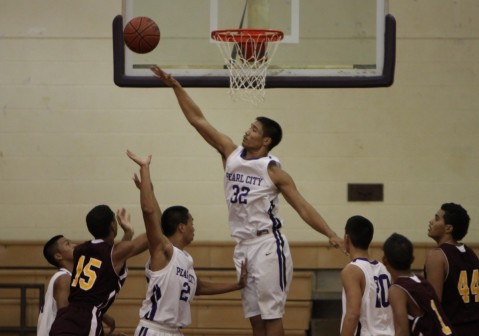 Photo by Barry Villamil | barry@mypearlcity.com
#32 Paul Perry III pictured on defense in the Chargers opening round 41-38 win over Castle on Tuesday, January 31, 2012 at Pearl City High School.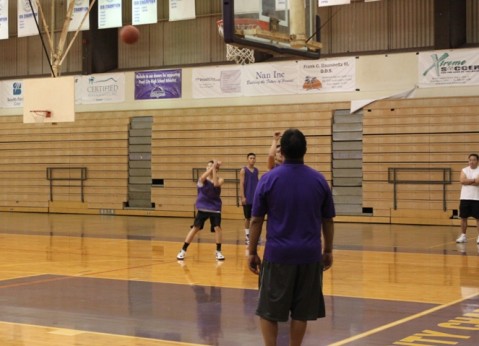 Photo by Barry Villamil | barry@mypearlcity.com
Pearl City Chargers Head Coach Lionel Villarmia pictured at practice on Monday, February 6, 2012 as he prepares the Chargers for tonight's match up with the Moanalua Na Menehune at Farrington High School.

Go Chargers!