Kahuku's Mata Tonga put in the winning basket with 5.1 seconds left on the clock to defeat Pearl City 42-41 in the quarterfinals of the HHSAA Division I State Girls Basketball Championship Tournament played last night at McKinley High School.
It was a classic battle between the two teams that came down to the final seconds to see who would move on to the semifinals to face #1 seed Konawaena from the Big Island who defeated Kaiser 62-42 earlier in the day.
Pearl City led Kahuku 15-8 after the first period and looked in control but the Lady Red Raiders tied it at the buzzer to end the second period at 22-22. Kahuku outscored Pearl City 8-6 in the third period and took a 30-28 lead entering the final period.
In the fourth period, Pearl City found themselves down to Kahuku 39-31 with 1:47 on the clock. Pearl City's Shawna Angle drilled a 3 pointer to cut the deficit to 39-34. Pearl City's Tiari Walker picked off the inbound pass from Kahuku and got tied up for a jump ball. The possession arrow went to the Lady Chargers with 1:21 on the clock. Sabrina Angle dropped a basket from the top of the key to close within 39-36. Kahuku had an opportunity to increase their lead but missed three free throw attempts. On the Lady Chargers next possesion, Shawna Angle scored to pull Pearl City within one point at 39-38 with 49.5 remaining in the game. On Kahuku's next possession, Pearl City's Alexia Blalock fouled Kahuku's Leighlani Paselio who converted the second of two shots to put the Lady Red Raiders up 40-38 with 22.5 seconds on the clock. Sabrina Angle dropped a 3 pointer to give the Lady Chargers the lead at 41-40 with 20.8 seconds left on the clock. Kahuku came back to take the lead at 42-41 on Mata Tonga's lay up with 5.1 seconds remaining. Pearl City's Shawna Angle got the ball on the Lady Chargers next possession but was blocked out by Tonga while driving to the basket for a game winning shot as time expired.
Kahuku moves on to play Konawaena in the semifinals tonight at Blaisdell Arena. Tio off is set for 7:00pm. Pearl City plays Kaiser in the 5th place consolation semifinals at Blaisdell Arena at 1:00pm.
Leighlani Paselio scored a game high 15 points for Kahuku. Pearl City's Sabrina Angle led the Lady Chargers with 13 points.
@ McKinley High School
1 2 3 4 F
Pearl City: 15 7 6 13 41
Kahuku: 8 14 8 12 42

Pearl City: Sabrina Angle 13, Shawna Angle 10, Dani Magana 9, Adrienne Jean Sylva 6, Tiari-Marie Walker 2, Shawni Cayetano-Ramos 1.

Kahuku: Leighlani Paselio 15, Mata Tonga 8, Fiatagata Tailele-Latu 4, Pati Anae 4, Temutisa Te'o 4, Tara Tailele 3, Tihane Kamae 2, Tyra Williams 2.

Three Point Goals:
Pearl City: 7 (Sabrina Marie Angle 3, Shawna Marie Angle 2, Adrienne Jean Sylva 2)
Kahuku: None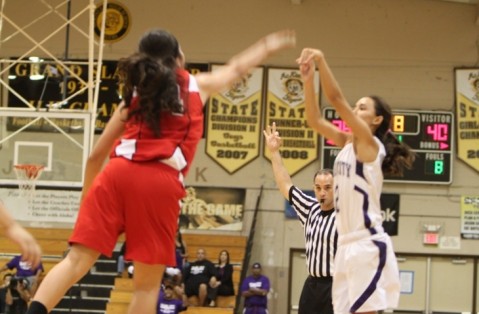 Photo by Barry | [email protected]
Pearl City's Sabrina Angle pictured drilling a 3 pointer to take a 41-40 lead over Kahuku with 20.8 seconds remaining in the game.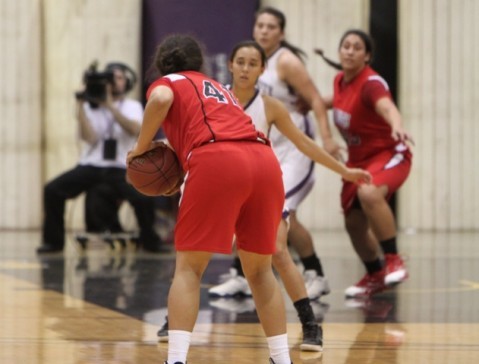 Photo by Barry | [email protected]
Kahuku's #41 Mata Tonga had a big game against Pearl City scoring 8 points including the winning shot with 5.1 seconds remaining in the game.