The Pearl City Lions Club held their annual Valentines Breakfast Fundraiser on Saturday from 6:30am to 11:00am at the Pearl City High School cafeteria.
This is the Pearl City Lions Club's biggest fundraising project of the year with the money raised from the event designated to provide student scholarships, student vision screening, community cleanups, collection of old eyeglasses, school supplies, and services to the needy.
Fundraiser supporters paid $6.00 for a generous helping of scrambled eggs, Portuguese sausage, rice, corn bread, fruit, coffee, juice and water.
Saturday's breakfast fundraiser also offered a convenient drive-thru service for those on the run on a busy Saturday morning. Pearl City Boy Scouts and Cub Scouts along with Pearl City Lions Club members and volunteers manned the curb side service to perfection.
A plant sale and special Valentines Day gift booths were also available for those who decided to dine-in at the Pearl City High School cafeteria during the event.
A special mahalo to the Pearl City Lions Club for the countless volunteer hours that their members and supporters dedicate throughout the year to benefit our Pearl City residents and their ohana.
Great Job!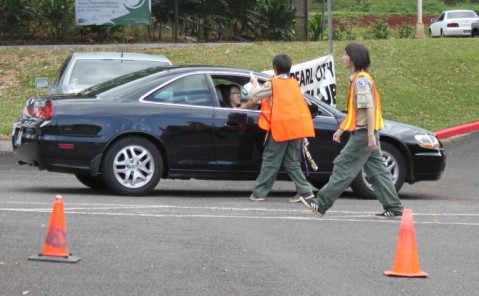 Photo by Barry Villamil | barry@mypearlcity.com
Pearl City Boy Scouts and Cub Scouts kept the drive-thru breakfast pick up service running smoothly all morning.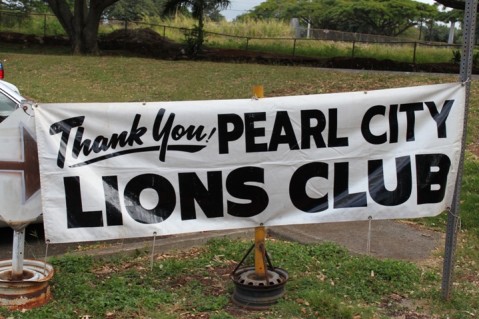 Photo by Barry Villamil | barry@mypearlcity.com