Funeral services for my dad, Robert "Sonny" Villamil were held on Friday, February 17, 2012 at Our Lady Good Counsel Church in Pearl City.
My Dad will always be remembered for his smile, generosity and awesome sense of humor and his classic phrase "Why naturally"…
He truly loved and cherished his family and friends and made an instant impact on those he came in contact with throughout his entire life.
Robert "Sonny" Villamil was born on January 30, 1933 to Robert and Lillian Villamil in the small sugar cane town of Pahoa on the Big Island.
He is oldest of five siblings, brothers Ernest and Rudy and sister's Vivian, Lillian and Priscilla who he remained close with as a loving big brother until he was called to our Lord on January 31st.
My dad was married to my mother Patricia for 52 golden years until her passing in 2006. Together they had four children, including myself, my brother Robert Jr, sister Robin and brother Brent Patrick who passed away as an infant. Mom and dad were also blessed with two wonderful daughter in laws, Mary and Denise, three granddaughters, Heather, Shealyn and Katelyn and two great grandchildren Luke and Mikela.
Upon graduation from Pahoa High School my dad joined the United States Marine Corps where he retired as a Master Sergeant in 1972 after 21 years of service to his country.
Master Sergeant Robert Villamil was a warrior, as brave as they come. He is combat veteran who served in both the Korean and Vietnam Wars. The Marine Corps was his life. He was a model Marine and stayed true to the Corps until his final breath.
My dad also retired from Bank of Hawaii and later worked at Cutter Ford in Aiea.
He was also true to the Catholic faith were he served, along with my mother, as Eucharistic Ministers at Our Lady of Good Counsel Church in Pearl City.
My dad enjoyed coaching youth league baseball, football and basketball when the Villamil moved to Pearl City in 1970.
In later years he enjoyed playing golf at the Navy Marine Golf Course, bowling at Leeward Bowl, watching Korean Drama DVD's, going to Las Vegas and hanging out with his close friends at Zippy's in Pearl City.
With a heavy heart I say farewell and pray for him as he follows the path of light that reconnects his soul with my mother and leads him to ultimate warmth of Heaven and into the arms of our Lord.
I would like to share an example of the type of heart, determination and will he carried with him up until his final hours.
In his next to final day on Earth, which was on his 79th birthday, he accomplished something that we will never forget. He wanted my sister to take him to get his license renewed.
In a wheelchair and unable to walk, he pulled himself up and completed the required paperwork, eye test, and took his photo. He was so proud of himself. My sister said to him, "wow you did it." He answered, "Why naturally"….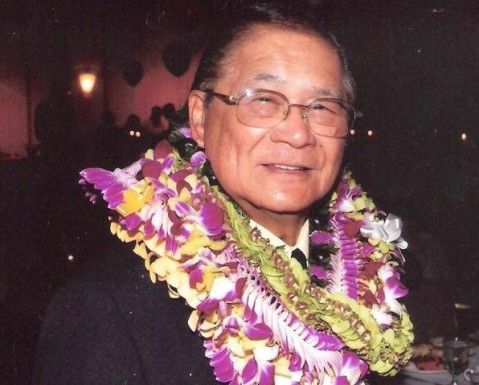 Robert "Sonny" Villamil January 30, 1933 – January 31, 2012
My family and I would like thank everyone for their prayers and the many wonderful stories that were shared in the last couple of weeks about how my dad touched their lives.
Farewell Dad. You are truly missed but forever in our hearts…..