AOP powered past Pearl City 46-26 on Wednesday in the opening round of the HHSAA Boys Division I State Basketball Championship Tournament played at Radford High School's Alegre Gymnasium.
AOP front man Kamana Keohohou led the way for the Dolphins with a game high 14 points to lead all scorers. Pearl City's Marc Suniga led the Chargers with 8 points.
In the first half the Dolphins led the Chargers 10-7 after the first period. Pearl City went ahead of AOP 13-12 in the second period on a basket by #5 Kainoa Perez with 4:42 on the clock. AOP came back to tie the game at 13-13 on a free throw by #12 Arkadiy Mkrtychyan with 3:40 remaining in the period. Pearl City's Marc Suniga scored to put the Chargers up 15-13 and was fouled on the play. Suniga converted one free throw to increase the Chargers lead to 16-13. AOP's Kamana Keohohou broke a 16-16 tie to put the Dolphins up 18-16. AOP went on to take a 24-18 lead at the half. That was about as close as Pearl City would get to AOP the rest of the game. ILH Runner-Up, AOP dominated Pearl City in the second half outscoring the Chargers 22-8. The Dolphins were impressive on both offense and defense and proved why they are a tough team to beat in the state tournament this year.
AOP moves on to the quarterfinals to face #3 seed KS-Hawaii (Big Island Champion) on Thursday (2/23) at 5:00pm at Radford High School's Alegre Gymnasium.
Pearl City dropped into the consolation bracket and will play KS-Kapalama on Thursday at 3:00pm. The defending state champion, KS-Kapalama suffered a 43-38 first round loss to King Kekaulike on Wednesday that spoiled the Warriors chances of a repeat.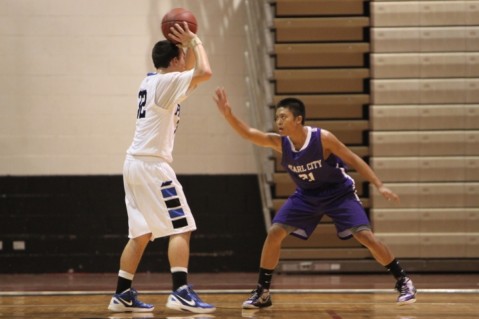 Photo by Barry Villamil | barry@mypearlcity.com
Pearl City's #21 Marc Suniga played tough defense and also led the Chargers in scoring with 8 points. Suniga pictured on defense against AOP's #32 Wilson Macleod.

@ Radford High School's Alegre Gymnasium
PEARL CITY (10-6) 7 11 2 6 26
ACADEMY OF THE PACIFIC (9-4) 10 14 11 11 46
PEARL CITY: Marc Suniga 8, Kainoa Perez 6, Kailon Sabate 4, Tysen Hickcox 3, Paul Perry III 2, Isaac Amorin 2, Bryson Takaesu 1.

ACADEMY OF THE PACIFIC: Kamana Keohohou 14, David Daniel 9, Mattia Raebel 6, Drew Viena 5, Arkadiy Mkrtychyan 5, Wilson Macleod 3, Artur Mkrtychyan 2, Shai Brown 2.