Leilehua (1-0) knocked Pearl City (2-1) from the unbeaten ranks with a 7-1 victory on Saturday behind the arm of Lady Mules ace Maegan Tupinio in OIA Red Western Division varsity softball action played at Kaala Elementary School in Wahiawa.
Tupinio held Lady Chargers to one run on seven hits in a complete game win. Pearl City's Sella Rodriguez took the loss allowing seven runs on six hits.
Pearl City got on the scoreboard in the top of the first inning on Tiari Walker's RBI single that drove in Robi Kami from third base. The Lady Chargers left two runners on base to end the inning with a 1-0 lead.
Leilehua broke it open in the bottom of the third inning scoring four runs to take a 4-1 lead. The Lady Mules brought the power to the plate in the inning scoring two runs on a double, one run on a triple and one run on sac flyout to deep right field.
The Lady Mules added three insurance runs in the bottom of the fifth inning to go up 7-1 over the Lady Chargers.
Leilehua and Pearl City will face each other again on Tuesday, March 13 at Pearl City High School with first pitch scheduled for 3:30pm.
Go Lady Chargers!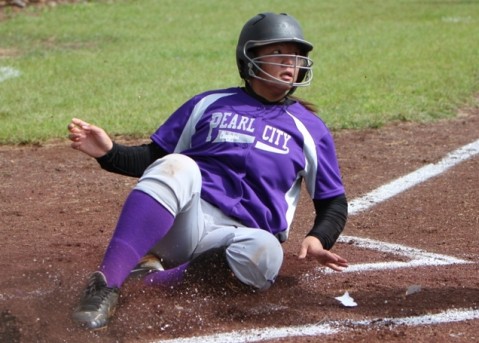 Photo by Barry Villamil | [email protected]
The Lady Chargers had an opportunity to score multiple runs in the top the first inning but came up short. Makana Kekaulike pictured here being forced out at home plate with one out.and the bases loaded.
@ Kaala Elementary School in Wahiawa
Pearl City (2-1) 1 0 0 0 0 0 0 1
Leilehua (1-0) 0 0 4 0 3 0 X 7