The Pearl City Foundation (PCF) would like to invite the community and their ohana to the new Momilani Farmers Market this Friday at the Momilani Community Center. The PCF has recently taken over the operation and management of the Momilani Farmers Market and is celebrating with a re-grand opening.
"We are excited to take over and expand our Farmers Market to provide more choices of vendors for our community," said Pearl City Foundation Executive Director Breene Harimoto. "We'd like this to be a family event, a place for residents to not only shop, but to come together as a community, meet friends and neighbors, talk story, have fun, and share a wonderful meal together."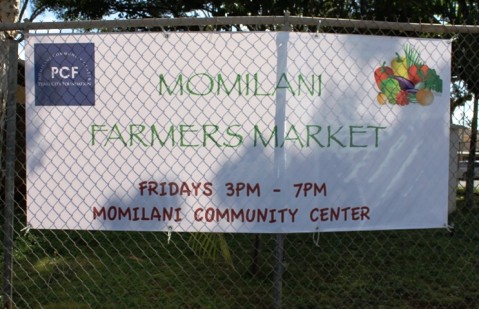 Photo by Barry Villamil | barry@mypearlcity.com
The Momilani Farmers Market is open to the public every Friday from 3:00 – 7:00pm.
Around twent vendors will have an assortment of produce, variety of hot foods,snacks, and more for sale.
The new Momilani Farmers Market is also planning to have a concurrent activity each week. This Friday (March 16) the Farmers Market will have free inflatables for the children. Other free activities in future weeks will be: Tumble Bus, Bingo for the whole family with prizes donated by vendors and others, entertainment, and more. Ideas from the public are also welcomed.
"As the Farmers Market grows, we plan to bring in a variety of food trucks on a rotating basis so each Friday there will be something new," Harimoto said ."In the future, we will also integrate our planned aquaponics/sustainability garden into the market so guests can pick fresh produce out of the growing beds and perhaps even provide an experience for children to fish for talapia in the fish beds."
Parking at the Momilani Community Center will be available at the lower field for convenience to guests. Parking attendants will be on duty. Parking entrance is on Hoomoana Street. The Momilani Community Center is located at the corner of Komo Mai Drive & Hoomoana Street.
If you may be interested in becoming a vendor, please call Kasey at 341-0568.
Hope to see you this Friday at the Momilani Farmers Market!