Tragedy struck a quiet upper Momilani neighborhood this morning due to a fire that destroyed a home on Hoomalolo Street and killed an elderly woman in her late 90's.
Two other occupants of the house were saved by neighbors after being pulled out of the burning home to safety. The fire engulfed the home making it impossible for rescuers to reach the woman who was found in a bedroom. The two who survived were both treated on the scene by paramedics for smoke inhalation.
The fire broke out at around 4:35 am according to officials. The Honolulu Fire Department reported that the fire was extinguished by 5:15 am.
The cause of the early morning fire is not known at this time.
Damage is reported at $450,000 to the structure and content in the home.
An HPD officer remained on the scene in front of the home at 1888 Hoomalolo Street at 12:45pm this afternoon as clean up continued on the property.
Our prayers go out to the family and friends of the deceased and to the brave individuals who came to the aid of their neighbors.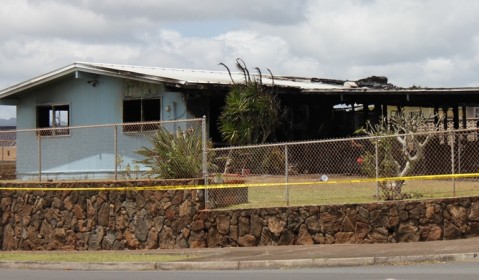 Photo by Barry Villamil | barry@mypearlcity.com
Burned out residence pictured at 1888 Hoomalolo Street in Momilani.