The Pearl City Lady Chargers powered their way last night, "with style" to win the Oahu Interscholastic Association's Red Division Judo Team Championship for the third year in row with a 70-27 win over the Mililani Lady Trojans at Moanalua High School.
Pearl City reached the finals after defeating Moanalua 80-20 in the quarterfinals and Mililani 50-34 in the semifinals.
Lady Chargers Head Coach Robin Puahala, after guiding his girls to their third OIA championship, made sure that credit for the teams success went to the girls. "This is our third in a row, and I think nine overall," said Coach Puahala. "These girls are the heart and soul of our team. I'm so proud of them."
Leading the Lady Chargers is Senior Team Captain Sanoe Spencer who has been on all three championship teams and has won individual championships in Judo as well as on the Girls Wrestling team. Together, Spencer and her teammates have earned their victories through hard work and dedication to one another and to those who support and cheer them on.
""This feels really great, our girls are awesome", said Spencer. "They push me and I push them at the same time. The bond we have is closer than sisters. We also have a lot of support. The grad assistants come and give us pep talks and also my parents, they keep me sane. They keep me humble and keep me the person that I am."
Spencer and her Lady Chargers teammates also have a deep respect for Head Coach Puahala who pushes them hard through every practice, but has also shaped them into into the champions they've become today.
"My coach is an unbelievable coach," Spencer said. "He might be young, but he has a big heart. He has a heart like a champion and he knows what's best for us girls. He knows that if he doesn't kill us on the mat in practice, we are not going to come out victorious in these tournaments."
Victories have dominated the win the column this year as the Lady Chargers ended the regular season undefeated at 7-0 and have added the OIA team championship to their perfect record. Next up is the OIA Red Western Division Championships on Saturday, April 21 at Mililani High School. The championship tourney is scheduled for 10:30am.
Go Lady Chargers!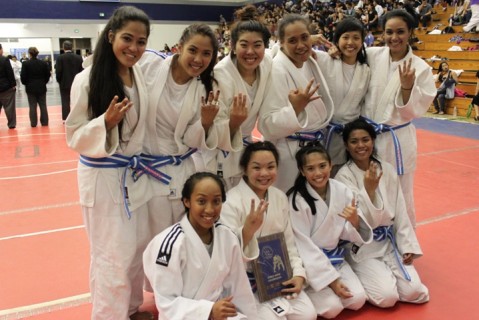 Photo by Barry Villamil | [email protected]
Pearl City Lady Chargers who competed in Friday's championship tournament (bottom row, left to right)) Taylor Vidad, Taylor Castro, Breanne Takaesu, Sherese Ader. (top row, left to right) Brittne Fuimaono, Trudi Eltagonde, Kacie Awa, Sanoe Spencer, Taylor Hayamoto, Debra Lefotu.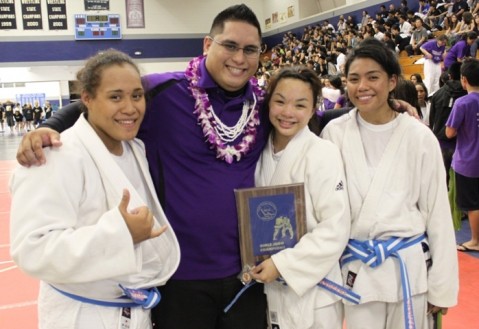 Photo by Barry Villamil | [email protected]
Coach Robin Puahala pictured with Sanoe Spencer (left) Taylor Castro (holding championship plaque) and Sherese Ader.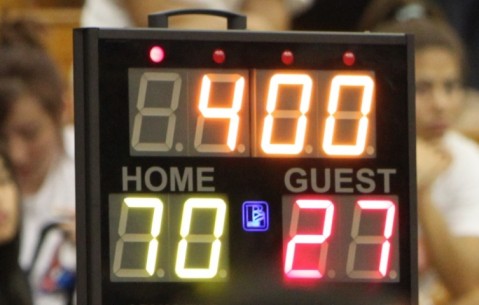 Photo by Barry Villamil | [email protected]
It's a Final! Pearl City Lady Chargers are OIA Team Judo Champs!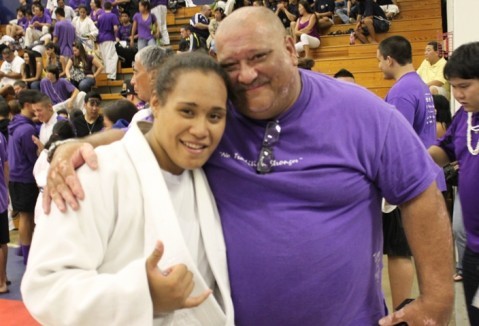 Photo by Barry Villamil | [email protected]
Lady Chargers Team Captain Sanoe Spencer poses with her proud Dad!