Hawaii Foodbank held its 23rd Annual Food Drive on Saturday with donation drop off sites at nine locations throughout Oahu. The Pearl City Shopping Center served as one of the locations staffed with terrific community volunteers who worked together to collect canned goods and monetary donations.
"We have a lot of community groups that come out to volunteer," said Sheri Rolf, 2012 Food Drive Chairperson. "It is so much fun for them to be out there waving at their neighbors and stretching those long arm fish nets out there into their windows to ask for a donation. It's a great day. Its a good time for community to come together."
The Hawaii Foodbank has set their goals in 2012 to raise enough donations to provide one million meals. Saturday's food drive played an integral role in staying on course by reaching out and banking on the generosity of our community.
"We have some pretty heady goals," Rolf said. "One Million Meals! That's food and dollars. For every ten dollars donated that yields us twenty-five meals. We're always looking for our top five canned goods like canned meals, canned meats, canned fruits, canned vegetables and canned soups. The important thing is that we have a very caring and generous community and we're hoping today that they reach into their pockets. We're just grateful for everybody's donation whether its one can, ten dollars, or whatever they can give. We're so grateful for the Pearl City Shopping Center and the merchants here for their generosity and for donating the space for us to have a home base to go out there and collect the food and dollars."
The Hawaii Foodbank reports that fourteen percent of Hawaii has a need for the Hawaii Foodbank at sometime during the year. The food bank donation inventory is currently at around twelve days.
"At this time we have about twelve days of food in the Hawaii Foodbank warehouse," Rolf said. "We like to keep at least twenty days."
Mahalo for the generosity of our residents in communities across Oahu who were able to donate to the Hawaii Foodbank in support of those in need.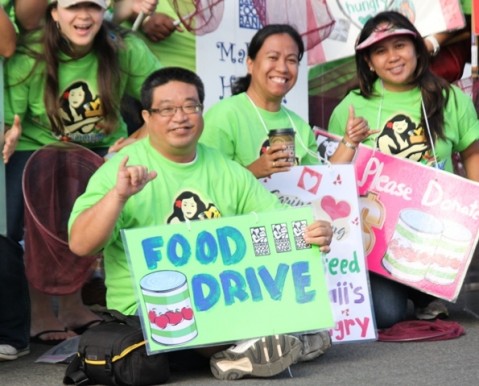 Photo by Barry Villamil | barry@mypearlcity.com
23rd Annual Food Drive volunteers happy and ready to get going on Saturday. Mahalo!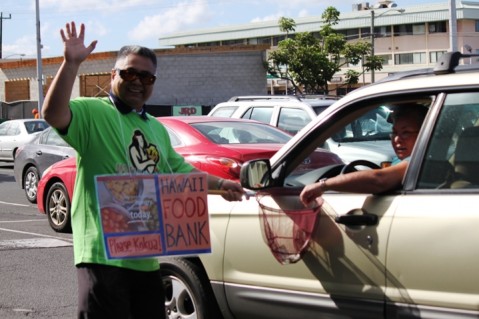 Photo by Barry Villamil | barry@mypearlcity.com
23rd Annual Food Drive volunteer collects a donation in front of Long's Drugs at the Pearl City Shopping Center.