For the past seven months, Terry and Carol Min have been enjoying life as the proud owners of the Dave's Ice Cream location at the Pearl City Shopping Center.
After spending eleven years running a successful convenient store in Waikiki, the Min's decided to sell their business in 2010 and started looking for a business that they could run and prosper from, but limited the amount of hours and work load as required to run their Waikiki retail operation.
"We worked hard for eleven years at our Waikiki business location without a day off," said Carol Min. "Our customers were very loyal and we became really good friends. Once our children grew up we decided to slow down a bit. We sold the business in September of 2010."
The Min's just recently celebrated their 30th Wedding Anniversary. They have two children, Daniel 28, who is currently attending medical school in Arizona, a daughter, Christina who is 26, and a granddaughter, Rylie, who is 6 years old. The Min's moved to Newtown in 1982 where they raised their children.
Carol Min has been familiar with Pearl City since arriving in Hawaii from Korea as a sixth grader in 1972. Min had an Uncle and Aunty who lived in Momilani and spent a lot of time staying with them while growing up on Oahu.
"I remember playing and going down to the Pearl City Shopping Center when Holiday Mart was there," Min said. "We used to have a lot of fun. I didn't speak English when I first arrived and had to learn fast."
The Min's are thrilled for the opportunity to operate their business in Pearl City. When you first meet Terry and Carol, you immediately get the feeling that they care for their customers and their families. Always with a smile and an invitation to sit awhile and enjoy a sweet treat.
"We love children and we are family oriented business," Min said.
When it comes to serving up sweet treats, the Min's are the best at taking care of their customers with specialty ice cream selections, drinks and big scoops.
"We are best know for our halohalo and we are generous with the size of our scoops," Min said.
In my opinion, the ice cream treats that they serve up becomes an extension of their personalities. That's the way it should be when you step up the counter to order a scoop or two of "smile food". A smile for a smile. Min style!
Dave's Ice Cream is open Sunday through Thursday from 10:30am – 9:00pm.

Friday and Saturday from 10:30am – 10:00pm.

Call: 456-8888 for more information.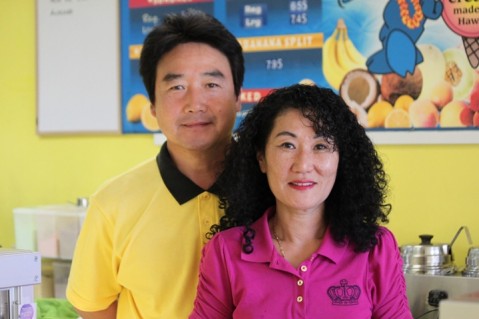 Photo by Barry Villamil | barry@mypearlcity.com
Terry & Carol Min, co-owners of the Dave's Ice Cream location at the Pearl City Shopping Center.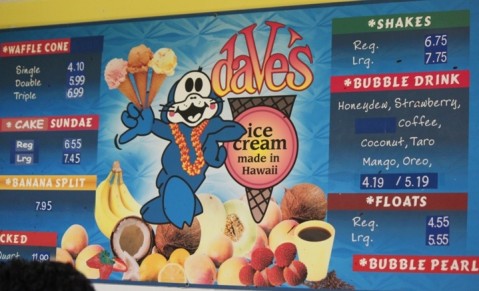 Photo by Barry Villamil | barry@mypearlcity.com