The Pearl City Chargers Boys and Girls Track Teams are all set to compete in tomorrow's Oahu Interscholastic Association's Varsity Championship Trials and Saturday's OIA Championships both scheduled for Kaiser High School.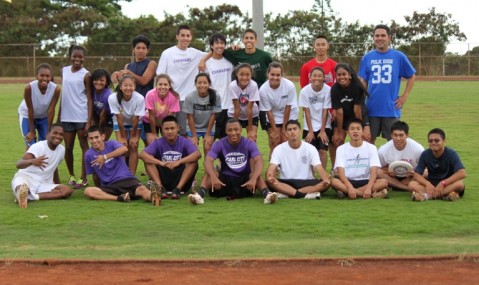 Photo by Barry Villamil | barry@mypearlcity.com
A portion of the Pearl City Chargers track team pose for a photo on Tuesday, April 24, 2012 at the Pearl City High School track.

The Chargers are coming off a banner year on the track. A second place finish in the OIA Western Championships has positioned the team to do well in the OIA Championships and HHSAA State Championships.
"Our kids are doing very, very well," said Pearl City Chargers Head Coach Donaldo Hopper. "Our girl's team is doing exceptional. We came in second at Western's and we have a lot of quality points, so going into OIA's I think we have a very good chance at possibly winning. Definitely a second place finish, but we're looking forward to winning hopefully with basically our five girls, our sprinter girls and three distance girls. We have kind of a small team. The make up of our team is probably very similar to when we won states in 2004, of course that was our boy's team. Our girl's team is actually very young. Our only senior is Adrienne Jean Sylva who is probably the favorite in the 300. We also have three really good varsity hurdlers and one JV hurdler who actually placed second at the JV championships. She has no space because our other hurdler girls are so dominating right now. That's where we hope to get a lot of points from."
In last weeks Punahou Relays, the girls, for the first time in Pearl City High School track history, took home first place medals in the 4×400 Relays and 4×100 High Hurdles.
"Our girl's 4×400 team has the fastest time in the state right now," Hopper said. "We won the Punahou Relays last week. Actually the Punahou Relays is pretty prestigious. It's really hard to place in any relays. Those girls in the 4×400 and our hurdler girls in the high hurdles relay were the first two Pearl City teams to ever to win an event at the Punahou Relays. There are not that many OIA schools that have ever actually done that. It's usually dominated by schools like Kamehameha and Punahou or in the past like Radford and Leilehua, some of the older teams."
The Charger girls also have a solid chance at winning medals in the distance races with sophomore Maile Shigemasa leading the way.
"Maile Shigemasa is pretty good in our distance races," Hopper said. "She should win a medal in two events, the 1500 and 3000."
Punahou Relay Champions
4×400 Relays – Parishaan Carter-Amorin, Alissa Uyeda, Adrienne Jean Sylva, Diamond Briscoe.

4×100 High Hurdles – Alissa Uyeda, Adrienne Jean Sylva, Jhenna Rae-Caldetera, Alexia Blalock.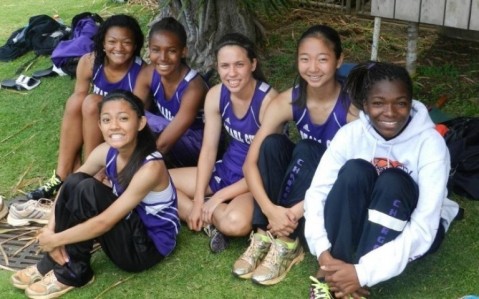 Photo courtesy of Coach Donaldo Hopper
Charger girls pictured at the Punahou Relays after winning the 4×400 Relays and 4×100 High Hurdles.

The Charger boys will compete for top finishes in the relays and distance races with underclassmen ready for the challenge.
"Our boys relay teams will be pretty good at the OIA's," Hopper said. "I'm thinking maybe third in the 4×400 and third in the 4×100. Daicorri Briscoe is doing pretty well. Our distance runner Reece Teramoto is doing well too. They should be looking to get some medals in the sprints and the distance. We're kind of JV heavy on our boy's side and we also have a lot of juniors. Most of the time juniors are hard to place. Being young is good for the future."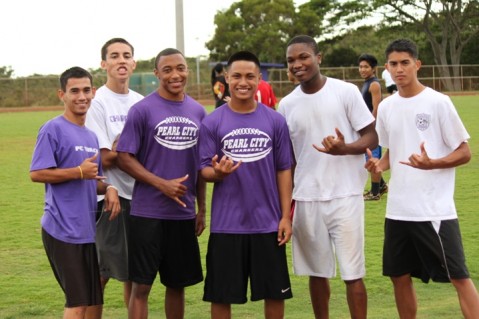 Photo by Barry Villamil | barry@mypearlcity.com
Pearl City Chargers sprinters and hurdlers are ready to go in this weekend's OIA Championships.

Coach Steve Steinfelt has his jumpers ready and poised to be contributors in the Chargers final points tally with top finishes in the OIA and state championships.
"In the jumps, which is what I coach, I have three girls in the triple jump and hopefully two of the three will place in the top six because that's where you get the points," said Steinfelt. "Alexia Blalock has a chance to be a state medalist in the triple. In the boys I have three triple jumpers and I think one of them will place. In the long jump for the boys Daicorri Briscoe can jump with all long jumpers. He can run fast and jump high but he hasn't really put it all together yet. If he puts the two together he can be an OIA and state medalist. We could possible have everybody get an OIA medal this year in the jumps. A lot of good things have to happen but it could happen."
Coach Landon Castro has one thrower, Rodnad Theodore who has a good chance in the Discus competition. "Rodnad is throwing well," said Castro. "He has a good chance to place in the OIA's and qualify for the state championships."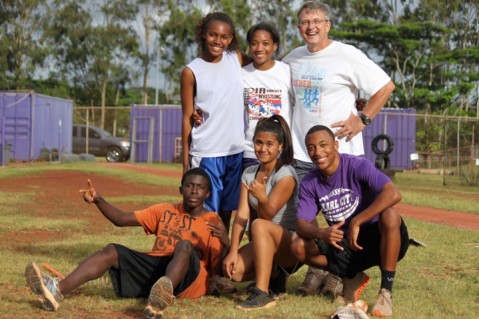 Photo by Barry Villamil | barry@mypearlcity.com
Coach Steve Steinfelt pictured with his jumpers at Pearl City High School during training for this weekend's OIA Championships at Kaiser High School.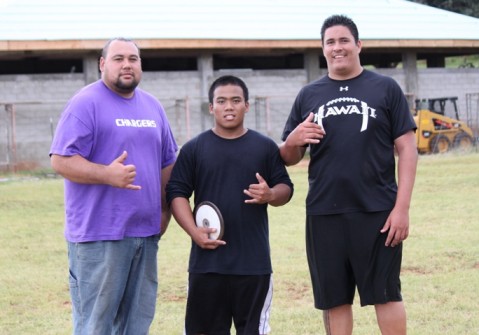 Photo by Barry Villamil | barry@mypearlcity.com
Coach Landon Castro (left) pictured with his discus throwers, Charger teammates Tyrin Besas (middle) and Rodnad Theodore.

Good Luck this weekend and Go Chargers!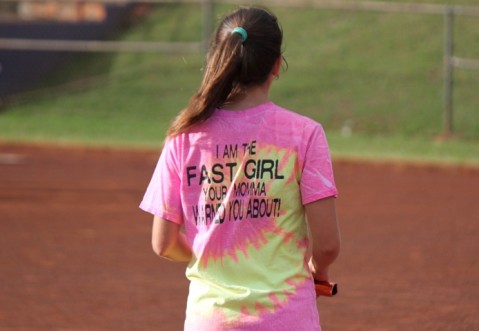 Photo by Barry Villamil | barry@mypearlcity.com
OIA Championship Schedule:
OIA Varsity Championship Trials
Thursday, April 26
3:30pm
Kaiser High School
———————————————–
OIA Championships
Friday, April 28
3:00pm
Kaiser High School