Pearl City went down in four sets to Baldwin of the MIL 25-19, 22-25, 19-25, 18-25 in last night's first round of the New City Nissan's State Division I Boys Volleyball Championships played at Farrington High School.
Pearl City's Joe Hammond led all scorers with 25 kills for the Chargers. Hammond also added 4 blocks and 5 aces. Teammates Chaz Ebisu 8 kills, 2 blocks, Luke Motoyama 7 kills, and Derek Chang 38 assists all contributed in the loss to Baldwin.
Baldwin's Brad Bowlin was impressive for the Bears with 15 kills and 3 blocks. Gabe Ross 13 kills, Isei Finau 11 kills, Justyn Kuhaulua-Feiteira 43 assists, 6 aces, and Michael Ahn 4 blocks, 5 kills came through big in the first round win over the Chargers.
Baldwin moves on to the tournament quarterfinals on Thursday and will face #2 Moanalua at 5:00pm at Farrington High School.
Pearl City will play Leilehua in a consolation semi-final match-up on Thursday at Farrington High School. First serve is scheduled for 3:30pm. Leilehua lost to Kamehameha-Kapalama on Wednesday in a first round sweep 3-0.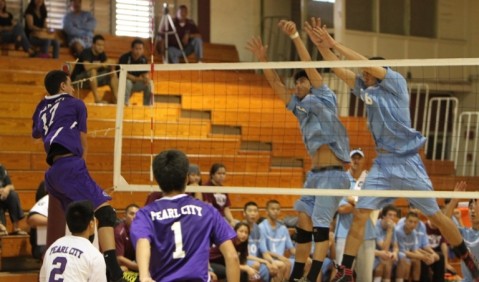 Photo by Barry Villamil | [email protected]
Pearl City's Joe Hammond scores one of his match high 25 kills to win game one 25-19 over the Baldwin Bears.