Pearl City resident Chad Owens is well known for his highly decorated career as a star football player at Roosevelt High School, the University of Hawaii, the AFL, and most recently as a member of the Toronto Argonauts of the Canadian Football League (CFL). Owens was also a 6th round draft choice of the Jacksonville Jaguars in 2005.
In 2011, Owens was named the CFL's most outstanding special team's player. He also led the CFL in five special team's categories and tied for the league lead with four kick off returns for touchdowns. In 2011, Owens became the fifth player in CFL history to record 1,000 punt and kickoff return yards in a single season.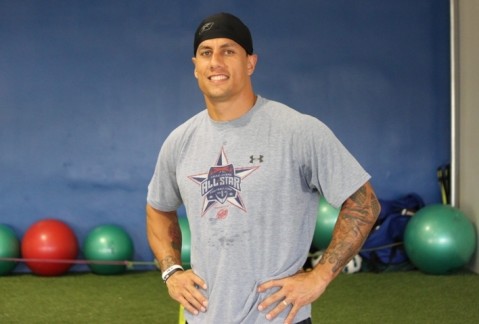 Photo by Barry Villamil | barry@mypearlcity.com
Chad Owens pictured at the HOP Waipio Training Facility.

During the past CFL off season, Owens returned home to Hawaii and spent his time navigating through a daily fitness routine that incorporated a strict and regimented off season training schedule. He also started a new career as the Director of Athlete Development for Hawaii Optimum Performance (HOP), volunteered in the community in support of Hawaii's youth, and most of all, enjoyed being home on Oahu with his wife Rena, children Chad Jr. 9, Areana 7, Sierra-Lynn 3.
Owens work as the Director of Athlete Development for HOP allows him the opportunity to give back to the community while giving back to the company that played an integral role in the rehabilitation of a knee injury that threatened his professional football career.
"Being a part of HOP is huge because I'm been involved with them for the past few years. When I tore my ACL in 2008, I came home and didn't know what I was going to do. Jason Goo the trainer at UH told me that my old high school trainer, Ross Oshiro had a training facility. So I got a hold of Ross and went to their Waialae facility and did all my rehab there. I just love there philosophy and what I was able to accomplish through what they were teaching, the foundation, the core strength, flexibility and all those things. I was doing things that I had never done before."
"When Chad injured his knee in Arena football a few years back, he came and did his rehab with us," said Kevin Chang, HOP Partner and Certified Athletic Trainer and Certified Strength and Conditioning Specialist. "He was able to train and make it to the CFL."
"What I saw with Ross and Kevin was a system that not only works, but its something that they're implementing because they really care about their athletes," Owens said. "They take the necessary steps. We don't rush things here at HOP. It's like building a house. That's kind of what we do. To be a part of it officially is great. We've been talking about it for the past couple of years. This year I came home and the timing was right. Everything fell into place. I have a training facility that I come to and train, myself. I have a place that I can call home and I get the chance to train the kids, train the youth, and really impact their lives."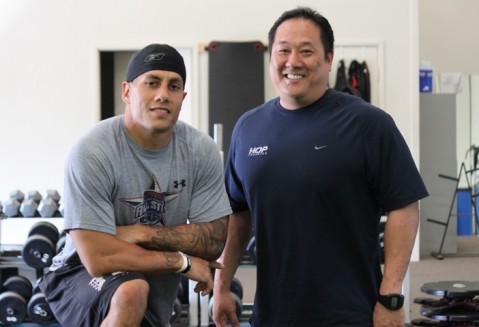 Photo by Barry Villamil | barry@mypearlcity.com
Chad Owens pictured with Kevin Chang at the HOP Waipio Training Facility.

HOP will celebrate its 10th Anniversary this summer and the recent facility expansion at their Waipio location in West Oahu now offers clientele the opportunity to train on Hawaii's only indoor turf field.
"We've been at this Waipio location a year and a half," Chang said. "In August, HOP will celebrate its 10th Anniversary. Our Kaimuki office has been open for about six years. We recently expanded our Waipio office in February. We added 2000 sq. ft. for a total of 4000 sq. ft. with half of it being field turf. We have the first and only indoor turf field in Hawaii at this time. The field is 12 yards by 15 yards and we can conduct all our speed and agility training, football clinics, and soccer clinics. Actually, we can put quite a few athletes and get a lot of work done on this field."
What motivates Chad Owens to dedicate his time to share his knowledge and experiences with Hawaii's youth is his compassion to give back.
"I always enjoy giving back especially because I never had it growing up. I want to share my knowledge with them and give them something that we never had, especially with my kids. They're growing up now. My son is going to be nine and he loves to work. He loves to workout and loves to train. I want to give him every opportunity."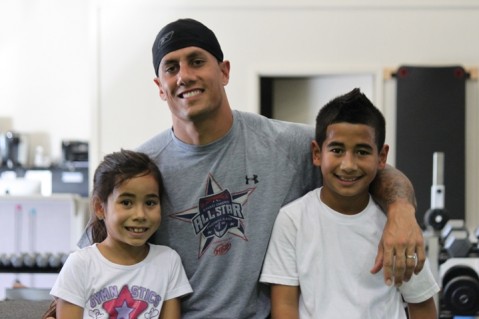 Photo by Barry Villamil | barry@mypearlcity.com
Owens poses for a photo with daughter Areana and son Chad Jr. at the HOP Waipio Training Facility.
Owens wants to deliver the complete package as a mentor as he works to improve the athletic skills as well as overall development of his student/athletes.
"We've got so much talent here and they just need the proper guidance. I've seen it happen a lot with a lot of kids with talent. Maybe a few bad decisions, whatever the case may be, and they don't make it. We have so much talent not to be making it. I just want to be here for these boys and girls. I want to not only make them better athletes, but to share those life lessons and try and make sure that I mentor them and that they understand what its going to take to be successful off the fields, off the courts."
The "fun factor" has been incorporated in his approach to the type of highly interactive-training format that has proven to be a success at HOP.
"It's fun. I just love interacting with them and making it fun. Playing games and doing things with them is awesome. It has definitely been a blessing for me. Thanks to Ross and Kevin for giving me the opportunity."
With success from both on and off the playing field, Owens feels an added responsibility to reach deeper into community to help others.
"I accept that role and I understand my role in the community. What it does for me is it keeps me accountable for myself, for my family, because of who I am and what I'm able to accomplish. Because of my accomplishments I am able reach further out and help others. It's all about being able to continue to give back to the kids."
Giving back does have its challenges in 2012. With his new role at HOP, Owens is first to give credit to the man above for the ability to handle his responsibilities while giving back to the kids.
"My previous off seasons I've focused just on training, that's it. This off season I have a lot on my plate. I know that God wouldn't give me these things if he knew I couldn't handle it. I've taken on a lot of responsibilities but I'm managing it alright. Day in and day out I check my schedule for the day, okay what do I have to do, and I do it. Like today, I know I have a group of kids at 5, 6, and 7. Today I'm tired. I had a great training session and my body is telling me to just go and lay down and rest, but I know I have a responsibility to these kids, and I'll make the sacrifice for them. At the same time they're learning as well."
Most of all, Owens is grateful for those who have touched his life and for the opportunities that have been given to him and his family.
"There are so many people who played a role in my life. I definitely have to thank God for giving me multiple opportunities. In the NFL, cut. Another chance, no. Another chance, no. AFL, I tear my knee. Another chance, CFL, traded. So I've had multiple opportunities that a lot of guys are looking for just one. I get to do what I love. I'm still playing football and I love it. I can't complain. I'm very thankful for that."
"But you know, my wife is the backbone of our family. It's because of her that I can do what I do. She takes on so much and gets very little credit. It goes unseen. She's not in the limelight but she is the one that holds us together. She's been there with me through the ups and downs, through the cuts, through the injuries, through the traveling, everything. My kids just love it. They're just going everyday we're in Canada, and they go to school. They're smiling and happy. They do what they do. When they come home to Hawaii they're happy to see their cousins. They come over here and train, they don't complain. They're my motivation and will continue to be. I'm just blessed to have kids like that and have a wife like that. It makes my job so easy. I look forward to everyday."
As of this writing, Owens is currently in training camp with the Argonauts in Toronto. MyPearlCity.com would like to thank him for taking the time out of his busy schedule for this interview and wish him the best as he continues on in his professional football career and community efforts in support of Hawaii's youth.
Chad Owens is blessed with talent and speed, but his gift is his "Heart & Soul".
To learn more about Chad's work at Hawaii Optimum Performance log on to: hoptraining.com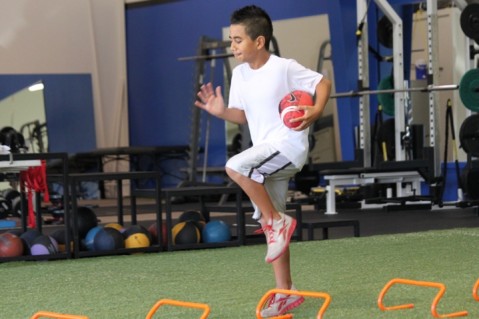 Photo by Barry Villamil | barry@mypearlcity.com
Chad Jr. in training and preparing to blaze a trail of his own.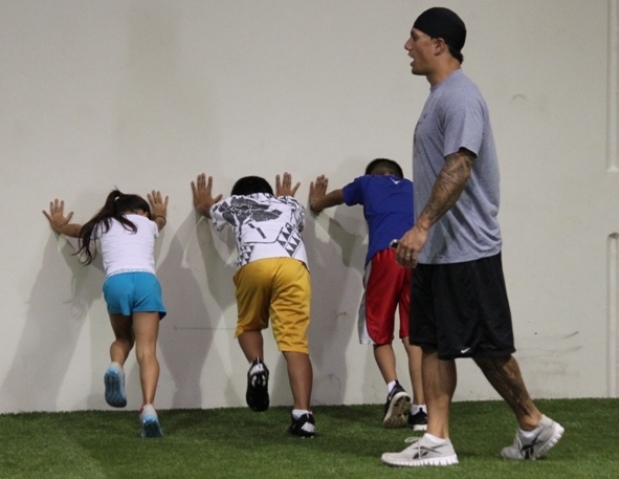 Photo by Barry Villamil | barry@mypearlcity.com
Owens runs his students through drills at the HOP Waipio Training Facility. Daughter Areana (far left).