It's been a challenging road to recovery but Pearl City resident Chace Numata has his professional baseball career back on track after suffering a hand injury during the 2011 season.
The former Pearl City Charger (class of 2010) is in his third season as a professional after being drafted in the 14th round by the Philadelphia Phillies in 2010. Numata started his minor league career with the Gulf Coast League Phillies in 2010. He broke his hand in 2011 and was limited to nine games for the GCL Phillies.
Numata is currently playing ball for the Williamsport Crosscutters in the Phillies organization and in just a couple games so far this season has made an impact behind the plate most notably with his arm strength.
Pearl City Charger fans know what that arm strength looks like and the affect it had on the opposition during his high school career as pitcher. Numata was a fireball as a starter and closer for the Chargers with a top as a closer gunned at 94 mph.
I would like to share a great article that was sent to me by Cher Numata (mom) that was written recently by MITCH RUPERT (mrupert@sungazette.com) from the Williamsport Sun-Gazette as well as home opener game footage from WNEP2.
Mahalo to Cher Numata for keeping us all updated as Chace makes his way to the big show!
http://sungazette.com/page/content.detail/id/579964/Numata-returns-from-hand-injury.html?nav=5017#.T-aPzBFeVqE.email
Williamsport Wins Home Opener Live on WNEP2
http://wnep.com/2012/06/19/williamsport-wins-home-opener-live-on-wnep2/
http://wnep.com/2012/06/19/williamsport-wins-home-opener-live-on-wnep2/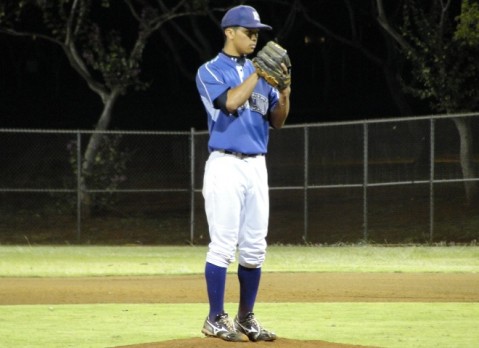 MyPearlCity.com file Photo | barry@mypearlcity.com
Chace Numata pictured closing it out against Campbell during the 2010 OIA post season playoffs. Numata was part of the Chargers winning four straight Oahu Interscholastic Association Red Division Baseball Championships.

All in the Numata Family

Chace Numata also has siblings that have made their mark playing ball and winning championships. Chevas Numata played with his older brother Chace at Pearl City High School and was a multiple all-star selection and a member of the Chargers 2011 HHSAA State Baseball Championship Team. He is currently playing baseball at the College of Southern Nevada (CSN) in Las Vegas.
Sister Kanani was an all-star softball player for the University of Hawaii at Hilo and a second-team 2011 MSUB Desert Stinger selection. Kanani was also a two-time all-State second-baseman and two-time all-league second-baseman as a Lady Charger at Pearl City High School. She is also a member of the Lady Chargers 2006 HHSAA State Softball Championship Team.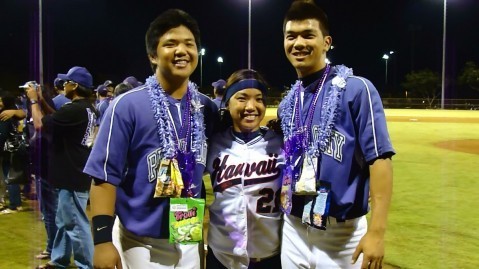 MyPearlCity.com File Photo | barry@mypearlcity.com
Chevas, Kanani, and Chace pose for a post game photo at the 2010 OIA Red Division Championship Title game won by the Chargers at Central Oahu Regional Park in Waipahu.