A majority of the Pearl City Charger football players on the current 2012 varsity roster will be counted on to play 3-ways during the upcoming Oahu Interscholastic Association White Division regular season.
Conditioning will play a major factor in the success of the Chargers football program if they plan to duplicate last seasons perfect 8-0 regular season record that also included a spot in the HHSAA DII state tournament.
Before opening the regular season at home against the Radford Rams on August 17, the Chargers will face tough OIA Red Division competition with scrimmages scheduled for today on the road against #10 ranked Mililani and on Friday @ home against Moanalua.
The Chargers will battle OIA Red Western Division powerhouse Kapolei in their only pre season game at home on Friday, August 10.
Since taking over the helm of the Chargers football program back in February of this year, first year Head Coach David Hallums has seen the improvement from both his players and coaches as the program begins to gel and move forward.
"I'm actually pretty satisfied with the development of a lot of the kids," said Hallums. "I don't really think that they're aware of how far they've come and even how far the coaches have come as well. We believe that we are capable of winning now and surprising a lot of people, even with the transfers that left the program. We're confident on both sides of the ball."
The Chargers will compete this season with a squad that returns experience and talent but a lack of depth will challenge starters to push their limitations and productivity while switching between offense, defense and special teams.
"Offensively our depth is our defensive starters because they're so talented," Hallums said. "Our first unit including the O-line, our first eleven, I believe can compete against anyone. We're going to surprise a lot of people with the talent we were able to develop over the summer. Kristian Vaana Kikuyama will start at QB. Brock Teixeira has been terrific. He's going to be starting in any direction. Either at running back or at QB. If Kristian is starting at running back, Brock is going to start at the QB position. We also have very good size up front that I haven't seen before at Pearl City. But, we have no depth. We have a solid core of six big guys. If those guys are down, that's like two or three positions are down because they play both O-line and D-line.
The Chargers also have solid leadership coming from both seniors and underclassmen.
"We have a mixture of leaders starting with our offense, Hallums said. "Daicorri Briscoe is stepping up as a leader. Tanner Tokunaga is also a silent motivator. Krisitian is only a junior, but he's a born leader. He's not afraid to tell seniors to come on and do this. Titus Solmerin is one of our vocal leaders on defense along with Justyn Dela Cruz. David Laranol is also one of our leaders. We have good group of guys. A lot of these guys are quiet leaders. They lead by example and work hard."
Pearl City Chargers 2012 Football Schedule:

Date Game Site Time JV Varsity
Pre Season

8/10/12 Pearl City vs. Kapolei Pearl City 4:00pm X X
Regular Season

8/18/12 Pearl City vs. Radford Pearl City 4:00pm X X
8/24/12 Kaiser vs. Pearl City Kaiser 4:00pm X
8/31/12 Pearl City vs. Nanakuli Pearl City 5:00pm X X
9/7/12 Roosevelt vs. Pearl City Roosevelt 5:00pm X X
9/15/12 Anuenue vs. Pearl City Waialua 4:00pm X
9/21/12 (HC) Pearl City vs. Kalaheo Pearl City 4:00pm X X
9/28/12 Waialua vs. Pearl City Waialua 6:00pm X
10/5/12 Pearl City vs. Kalani Pearl City 5:00pm X X
10/12-13/12 Bye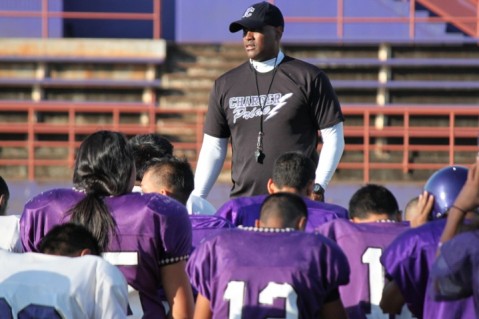 Photo by Barry Villamil | barry@mypearlcity.com
Coach Hallums pictured speaking to his team on Wednesday, August 1, 2012 as the Chargers prepared for this week's scrimmages against OIA Red Division opponents.

Go Chargers!