Pearl City residents and their ohana came together on Friday and Saturday to participate and celebrate the Obun Dance season at the 2012 Pearl City Hongwanji Mission Bon Dance held on the mission grounds.
Reverend Hiromi Kawaji and the Pearl City Hongwanji Mission continued the Buddhist tradition of honoring those who have passed on during the year as well as a time to reflect on our own lives.
(posted on the Pearl City Hongwanji web site at: www.pearlcityhongwanji.com)
Obon season is a very meaningful time to remember our loved ones who have passed away before us, and time to reflect on our lives.
In Jodo Shinshu Buddhist tradition, Obon is called "Kangi-e" which means "Gathering of Joy" in the Light of Compassion of Amida Buddha.
Bon Odori Dance is the way of expressing our appreciation and joy of life in the Buddha's compassion.

Attendees enjoyed two days of dance and fun which also included the following; Andagi Booth, Game Booth, Craft Booth, Country Store Booth and Ono Food Booths: BBQ sticks, hamburgers, shave ice, plate lunches, waffle dogs, chili bowl, fried noodles, and drinks.
It was a wonderful opportunity on Friday and Saturday at the Pearl City Hongwanji Bon Dance for residents and visitors to show their respect and appreciation for the Japanese culture that is deeply rooted in our Pearl City community.
Photo by Barry Villamil | barry@mypearlcity.com
Reverend Nishiyama led a prayer and also wished everyone a good time to commence the Bon Dance on Saturday night.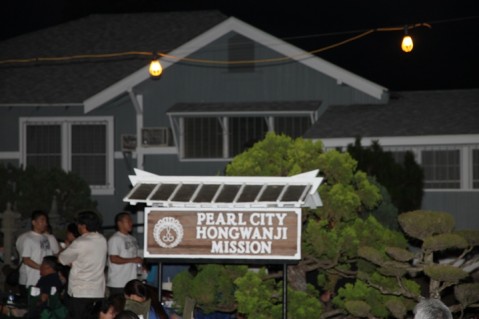 Photo by Barry Villamil | barry@mypearlcity.com