A brand new state-of-the-art memorabilia showcase is currently under construction at Pearl City High School. When completed in December of this year, the showcase will host selected PCHS memorabilia spanning over 40 years as well as into the future.
The showcase is 14 feet in length and 7 feet in height and is located in the administration building courtyard. Championship trophies, photos, uniforms, educational awards and accomplishments will be on display. The case will also feature a digital 40 inch flat screen television that will show the history of PCHS along with current updates from school activities, sports, and events.
Pearl City High School Vice Principal Aaron Tominaga has assembled a team of PCHS teachers and alumni to serve on the memorabilia showcase planning committee.
PCHS CTE teacher Les Aranaydo and students from his class drafted the showcase design and are currently working on the construction alongside PCHS faculty and community volunteers. Generous material donations have also come from both PCHS alumni and Pearl City businesses.
"We should be installing the glass doors soon," said Tominaga. "Les Aranaydo and his class has been working really hard on it. Tommy Silva (PCHS '78) of T & T Tinting has donated the theft proof film for the glass doors and glass shelves. Pearl City Glass also gave us a good deal on the glass doors and shelves. They also donated handles and locks for the doors."
The school is currently selling PCHS 40th Anniversary t-shirts to help offset the costs for the showcase completion. More information on how to purchase a fundraiser t-shirt will be made available soon.
(PCHS 40th Anniversary t-shirt design)
http://www.mypearlcity.com/story/education/yamashiro-wins-pchs-40th-anniversary-t-shirt-design-contest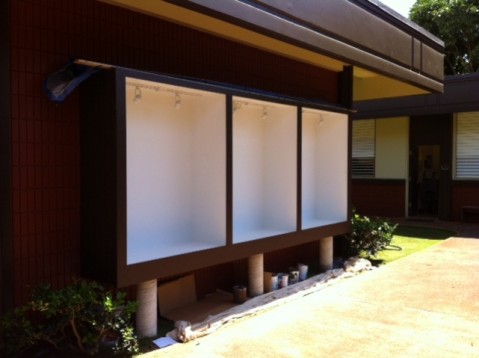 Photo courtesy of Pearl City High School
PCHS memorabilia showcase as of August 10, 2012.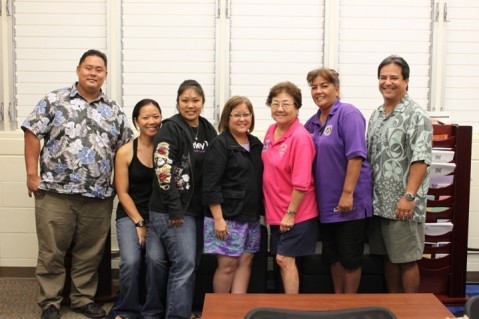 MyPearlCity.com file photo | barry@mypearlcity.com
PCHS memorabilia showcase planning committee (from left to right) PCHS VP Aaron Tominaga '91, Daphne Okunaga '97, PCHS Counselor, Liane Sataraka '90, Patti Rabacal '76, PCHS Student Activities Coordinator, Mike Ishihara, Leona Alaka'i '77 and Philip Kahue '78.

Other PCHS showcase planning committee members not included in photo: PCHS Athletics Director, Reid Shigemasa '88, PCHS Assistant Athletics Director, Kyle Miyashiro '90, Traci Miwa '01, Ava Limoz '00 and Barry Villamil '77.