The Pearl City Lady Chargers Softball team has reloaded and is all set to open the 2012 Oahu Interscholastic Association Red Division season on August 30, on the road against Leilehua.
Lady Chargers Head Coach Eldon Bolahao and his Lady Chargers are coming off a very successful 10-4, 2011 campaign which included a trip to the Oahu Interscholastic Association Red Division Junior Varsity Softball Championship game where they finished runner up to Mililani 6-5 after nine, hard fought innings against the Lady Trojans on their home field.
This year, Coach Bolahao has a good mix of freshmen and sophomore ball players that will contribute to the Lady Chargers success early on. "We have a strong freshman class coming up with Kristin Frost, Hope Casarez, Haley Honda, Janelle Okamura, and Anna Cabato," said Bolahao. "Angel Maikui-Jenks will be back for us as a sophomore starter on the mound."
Experience and a solid core of newcomers has given Coach Bolahao and his coaching staff a great start from team conditioning that began in May, to daily practice at their home field softball diamond located on the Pearl City High School campus.
"We're looking pretty good for this year," Bolahao said. "Like I said , our freshmen class is looking pretty good, and hopefully we can go into the post season and into the championship game again."
MyPearlCity.com wishes the Lady Chargers an exciting, winning season that leads to an OIA Red Varsity Championship Title!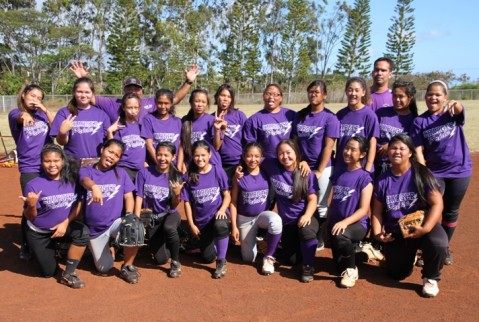 Photo by Barry Villamil | [email protected]
2012 Pearl City Lady Chargers Junior Varsity Softball Team.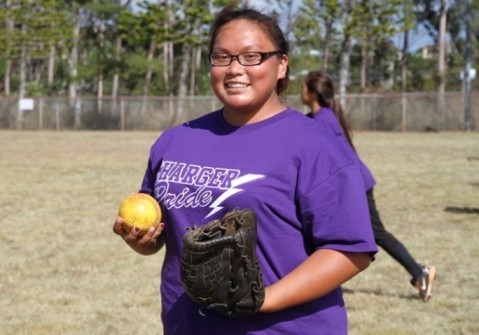 Photo by Barry Villamil | [email protected]
Sophomore Angel Maikui-Jenks will a play an integral role as a tarter in the Lady Chargers pitching rotation in 2012.
Photo by Barry Villamil | [email protected]
It's all about having fun!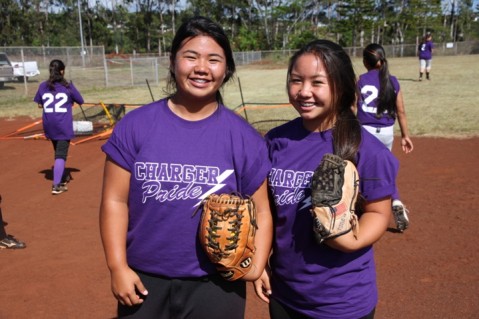 Photo by Barry Villamil | [email protected]
Go Lady Chargers!