The Radford Rams, behind the arm of QB Cody Lui-Yuen, outscored the Pearl City Chargers 27-6 to open the OIA White Division regular season last night at Pearl City High School's Edwin "Bino" Neves Stadium.
Lui-Yuen dominated the airwaves completing 17 of 30 passes for 274 yards and three touchdowns which included a 75 yard touchdown strike to Jameson Pasigan in the first quarter to give the Rams an early 6-0. Lui-Yuen also connected with Pasigan on a 25 yard third quarter touchdown reception that put the Rams up 27-0. Pasigan finished the game with 4 receptions for 145 yards and 2 touchdowns.
The Rams other scores came in the third quarter on a 5 yard touchdown run by Jordan Murao (extra point conversion good) and on an 8 yard touchdown reception from Lui-Yuen to Mason Manuma (extra point conversion failed).
The Chargers scored their only touchdown with 1:00 left on the clock in the fourth quarter on a 45 yard fumble recovery by Melvin Schmidt IV (extra point conversion failed).
Pearl City starting QB Travis Joe passed for 138 yards completing 12 of 24 with no TD's. Kristian Va'ana-Kikuyama hit on 3 of 14 passes for 44 yards and one interception. Daicorri Briscoe 6-70, Tanner Tokunaga 5-68, and Isaac Amorin 5-50 led the Chargers receiving core. Briscoe also rushed for 45 yards on one carry.
Pearl City (0-1) will hit the road to take on the Kaiser Cougars (0-1) on Friday, August 24. The junior varsity kick off is scheduled for 5:00pm with the varsity to follow 25 minutes after the conclusion of the junior varsity game.
Junior Varsity:
Pearl City 21 Radford 2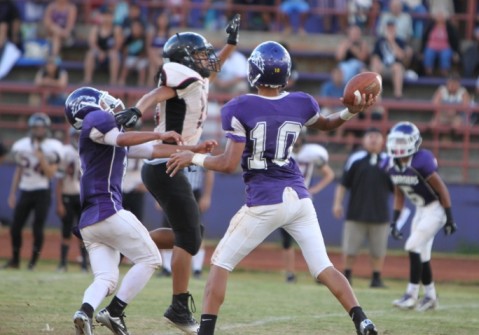 Photo by Barry Villamil | barry@mypearlcity.com