Pearl City went to war with visiting Nanakuli Friday night but lost the battle 34-28 on a late fourth quarter nine yard touchdown strike from Golden Hawks QB Chazz Troutman to Lansen Liki with 1:15 remaining on the game clock.
The loss drops the Chargers to 0-3 while the Golden Hawks improved to 2-1 in the OIA White Division Varsity Football regular season.
Pearl City took a 14-7 lead at the half, but Nanakuli came out fired up to start the second half tieing the game at 14-14 early in the third quarter on an interception at midfield by Tryson Vincent off of Charger QB Brock Teixeira. The Golden Hawks came right back picking off Teixeira for the second time in the quarter. Khade Paris pounded the ball in from the four yard line for the score. Nanakuli took a 20-14 lead. Nanakuli struck gold again, scoring on a four yard touchdown run by Paris that was set up after a punt that bounced off Pearl City's Daicorri Briscoe was recovered by Nanakuli's Eric Au Hoon-Kaawa on the Chargers four yard line. Nanakuli went up 28-14 with 3:20 left in the third quarter.
The Chargers came back in the fourth quarter scoring on a 70 yard touchdown reception from Travis Joe to Tanner Tokunaga. The extra point conversion brought the Chargers within one point at 28-21. Pearl City scored again on a 60 yard Briscoe punt return that tied the game at 28-28 after a successful extra point conversion.
Nanakuli held off the Chargers in the final minute of the ball game atter scoring on Lansen Lik's winning touchdown reception.
Daicorri Brsicoe had a big game for the Chargers scoring three touchdowns on the night.
Pearl City will travel to Roosevelt on Friday, September 7 to take on the Roughriders. The Junior Varsity kick of is set for 5;00pm.
Go Chargers!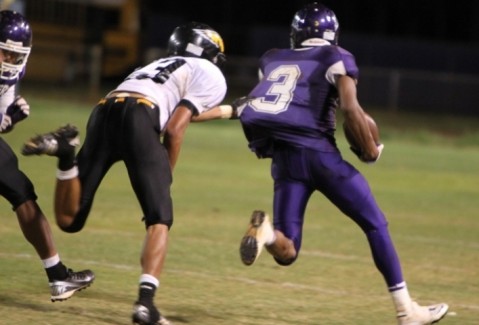 Photo by Barry Villamil | [email protected]
Daicorri Briscoe shakes the grasp of a Nanakuli defender to score on a 60 yard punt return late in the fourth quarter. The Chargers converted the extra point kick to tie the game at 28-28.

Junior Varsity: Pearl City 41 Nanakuli 27

The Chargers beat the visiting Nanakuli Golden Hawks 41-27 in OIA White Division JV Football to remain undeated at 3-0.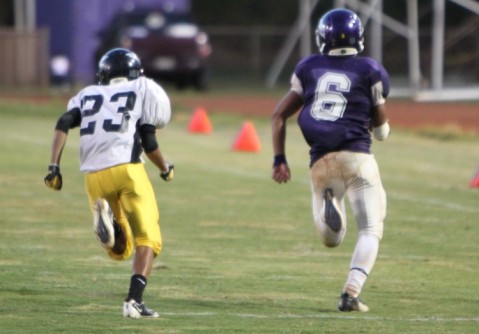 Photo by Barry Villamil | [email protected]
Pearl City's #6 Dominic Maneafaiga outruns a Nanakuli defender to score on a 98 yard touchdown run late in the fourth quarter, Maneafaiga also scored on a 72 yard touchdown run with 8:52 on the clock in the fourth quarter.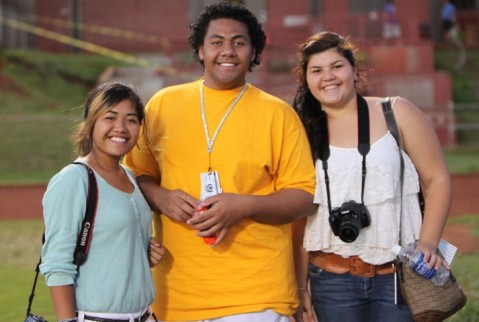 Photo by Barry Villamil | [email protected]
Aloha to the visiting Nanakuli High School photo journalists team (from left to right) Desha Ann Kala, George Alovao, and Heather Thomas. Great Job!