Visit the Foodland Supermarket located in the Pearl City Shopping Center at 850 Kamehameha Highway during the month of September and truly make a difference for those in need in our community.
Each year, during Sept.1 – 30 at all Foodland and Sack N Save stores
statewide, customers are encouraged to make a donation at checkout to their
favorite Hawaii non-profit organization.
During September, Maika`i members are invited to make donations up to
$249 to their favorite participating Hawaii non-profit organization at checkout.
The Pearl City Shopping Center Foodland store is located at 850 Kamehameha Highway. To learn more about how you can give log on to the Hawaii Foodbank web site at: www.hawaiifoodbank.org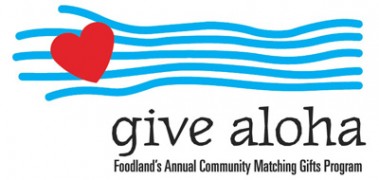 To learn more about the log on to: http://www.hawaiifoodbank.org