HPD Officers from the District 3 Pearl City Community Policing Team will conduct a CTAP – Community Traffic Awareness Program sign waving event on Wednesday, September 19 from 4-5:00pm at the corner of Waimano Home Road and Leomele Street in Pearl City.
Community volunteers and available area Legislators and elected officials will join HPD during the one hour sign waving event that will encourage and remind motorists to slow down, drive safely, and watch out for pedestrians while commuting through our Pearl City neighborhoods.
Senator Clarence Nishihara, who represents Pearl City, is the guiding force behind the September 19 CTAP event. Senator Nishihara has been in contact with the family of a woman who was killed crossing Waimano Home Road at Leomele Street last month. Next week's sign waving will also help to ensure that pedestrians are safe while crossing our busy streets in marked crosswalks.
The Pearl City community is invited to join HPD and community volunteers during the CTAP sign waving event.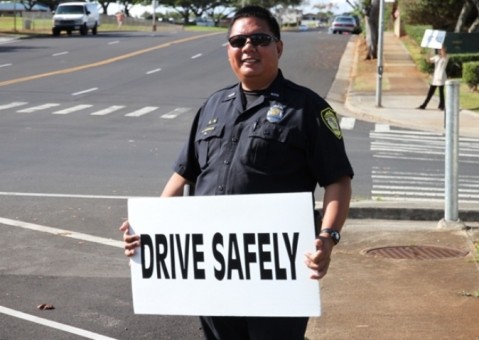 MyPearlCity.com File Photo | barry@mypearlcity.com