Pearl City pulled even at 3-3 with a 46-20 victory over Kalaheo in OIA White Division Varsity Football played at Pearl City High School's Edwin "Bino" Neves Stadium on Friday.
The Chargers football program celebrated Homecoming night with victories over the visiting Mustangs in both the varsity and junior varsity contests. The junior varsity rolled to a 54-0 win that kept their perfect regular season record in tact at 5-0.
Chargers Head Coach David Hallums is happy and proud of his teams mid season turnaround from and 0-3 start, to the team reaching .500 at 3-3 with two games remaining in the regular season. The Chargers will need a little help for a post season bid, but Coach Halllums is confident that his kids will play their hearts out to earn the opportunity to do so.
"I'm really happy for the boys," said Hallums. "At 0-3 that's when the negativity can easily consume a program, but I just love these kids so much that after our third loss in a row they came back. Our players and coaches, we have some warriors out here on this football team. We still got a chance. We still got an outside shot. It's all on the kids."
The Chargers behind QB Brock Teixeira and core of talented offensive weapons have forced their last three opponents into the 35 point mercy rule with their high powered and high scoring offensive attack. Teixeira continued his regular season touchdown passing attack against opposing defenses Friday night with touchdown tosses to Daicorri Briscoe, Isaac Amorin, Tanner Tokunaga and Blake Cooper. QB Travis Joe, who started the game for the Chargers, connected with Briscoe on a 72 yard touchdown pass in the first quarter that put Pearl City up 13-6.
"Offensively it's just a matter of Brock Teixeira just really settling in at the QB position and calming his nerves during the game," Hallums said. "You know he has weapons right across the line of scrimmage. Daicorri Briscoe, Isaac Amorin, Tanner Tokunaga are smart kids and coachable. They're running hard routes for each other and setting each other up. We're telling them to attack that safety so we can figure a guy one-on-one on the outside and they're doing just that. We're also believing in our line. Our center Stephen Joe has really picked it up with regard to our snaps."
On defense, the Chargers are as tough as it gets on the line of scrimmage, in the middle, and in the secondary. Forcing turnovers has given the offense more opportunities to score. Tyler Bingo and Justyn Dela Cruz showed their athletic skills picking off the Kalaheo QB's for a couple INT's. Bingo returned his pick for score iin the fourth quarter.
"Defensively they're just buying in," Hallums said with a bit of enthusiasm. "They're making tackles and making plays now and creating turnovers. It makes the job easy for us on offense when we're always getting the football back. Especially with the type of offense we have, we want the ball. Tonight the defense showed up against a very good Kalaheo team. They beat all the teams that beat us. For us to win like this is amazing. I feel so happy for the kids, the parents, and everybody just believing in what we're trying to do."
The Chargers varsity squad will hit the road on Friday, September 28 to take on the Waialua Bulldogs at 6:00pm. No game scheduled for the junior varsity.
Go Chargers!
(Game stats to follow)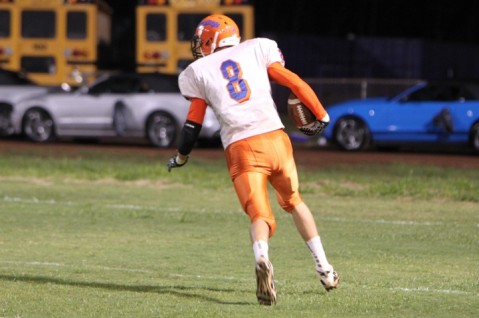 Photo by Barry Villamil | barry@mypearlcity.com
Kalaheo's Nainoa Frank scores on a 43 yard touchdown reception from QB Stephen Lee to give the Mustangs an early 6-0 lead with 6:49 on the clock in the first quarter.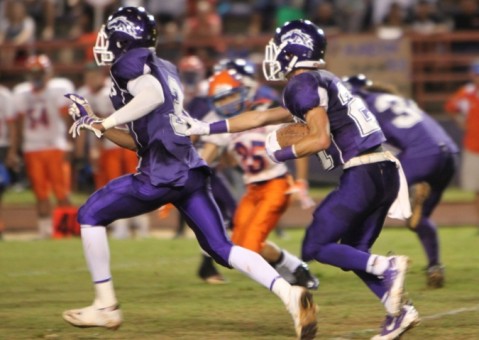 Photo by Barry Villamil | barry@mypearlcity.com
Tanner Tokunaga prepares to make a move to the inside and would score on a 85 yard touchdown run with in the 6:35 remaining in the first quarter to tie the game at 6-6.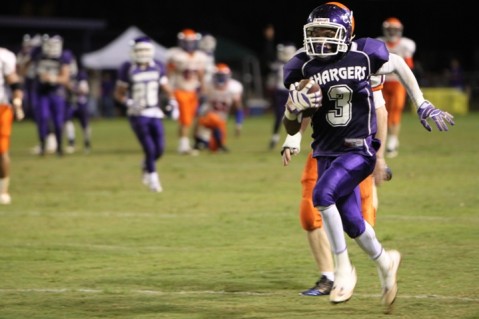 Photo by Barry Villamil | barry@mypearlcity.com
Daicorri Briscoe sprints down the sideline on his way to a 72 yard touchdown reception from QB Travis Joe in the first quarter that put the Chargers in front of the Mustangs 13-6.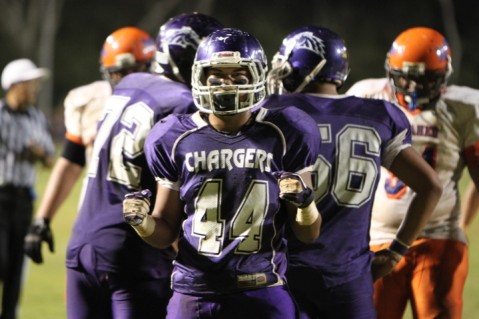 Photo by Barry Villamil | barry@mypearlcity.com
Tyler Bingo came up big for the Chargers defense returning a third quarter pick 27 yards for a touchdown.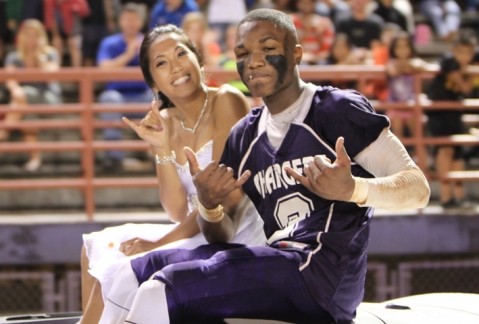 Photo by Barry Villamil | barry@mypearlcity.com
Mr. Briscoe was the man Friday night, as he participated in the PCHS Homecoming festivities as the Homecoming King (pictured with his Queen) as well as catching touchdowns for the Chargers in their 46-20 win over Kalaheo.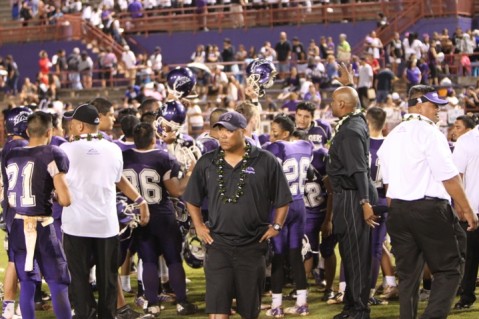 Photo by Barry Villamil | barry@mypearlcity.com
Coach Hallums pictured congratulating his team!


Photo by Barry Villamil | barry@mypearlcity.com
Win or lose, friendship is bigger than the game!
Junior Varsity: Pearl City 54 Kalaheo 0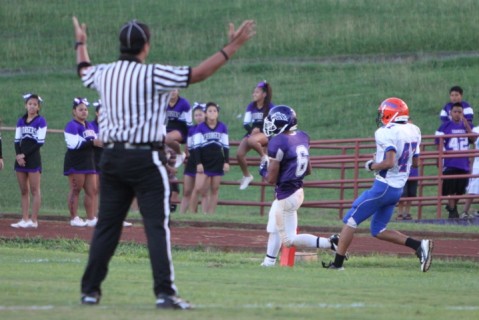 Photo by Barry Villamil | barry@mypearlcity.com
Dominic Manefaiga crosses the goal line in the second quarter to put the Chargers up 34-0 over the Mustangs.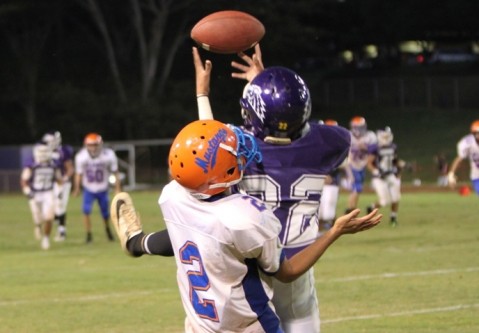 Photo by Barry Villamil | barry@mypearlcity.com
Kainoa Aragosa has the ball at his finger tips as he battles to gain possesion in the third quarter.