Pearl City resident Charlene Ikeda makes dreams come true. As a Realtor and Assistant Vice President for Marcus & Associates, Inc., Charlene works hard to find her clients the home of their dreams while delivering her, "from the heart" philosophy that transcends a clientele relationship into a long lasting friendship.
Her passion to serve her community as a volunteer parallels her efforts in her real estate career to make people happy while improving their lives. Charlene is currently a Board Member for the Rotary Club of Pearlridge where she serves as a Co-Chair for Rotary International's New Generations program that supports our youth from ages 13-20 years old.
As a Rotary Club of Pearlridge Board Member, Charlene is involved in community service projects that benefit our Pearl City community such as the University of Hawaii Urban Garden Center and our Pearl City District Complex Schools through the Rotary Dictionary 5000 Project where third graders from selected schools receive free dictionaries in the beginning of the school year.
Charlene is also a dedicated volunteer supporter for the Aiea High School band program and is very involved in fundraising efforts that support the band and their activities. The Aiea High School band has a special place in her heart as her youngest son, who is a junior, plays in the band.
Being around Charlene Ikeda and her caring, warm hearted personality is contagious. She inspires you to do something positive for someone else. With a smile, she credits her mother for her influence in playing a huge role in her success, as a person, and as a professional that continues today to have an affect in her life as she pursues her own dreams and goals.
As a Pearl City resident, we all carry a sense of pride and respect for our neighbors and environment. Charlene has called Pearl City home for past twenty years. She is rooted and an asset to our community.
I would like to thank Charlene for the time to conduct the following MYPC Q & A interview. It was nice being able to hear her story and present it to you.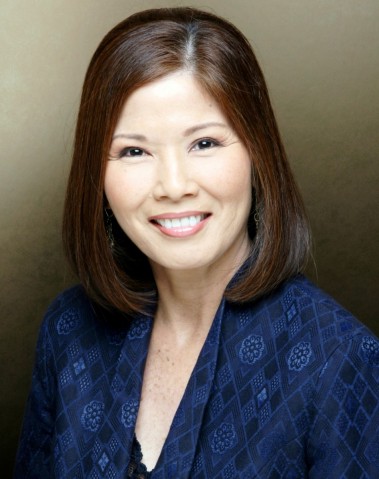 Photo courtesy of Charlene Ikeda
Q: What makes it so special to live in Pearl City?
A: I feel that I'm really spoiled where I live in Pearl City. There are a lot of those big box stores and restaurants and everything is just right there. It's very convenient.
Q: Where did you attend high school?
A: I graduated from Kailua High School and from there I went to a community college, graduated and started my career.
Q: How many children do you have?
A: My oldest son is in college and about to graduate and my younger son is a junior at Aiea High School and very involved in his school. Being that he's involved, I'm involved.
Q: How did you choose your career path?
A: I find that I'm very blessed for my career path because I really did not think of going into a corporate environment, a work environment. I was actually a dancer, a hula dancer. I danced from when I was young and later I earned money performing. It was just small money while growing up in high school. My goal was to dance professionally and travel. In my senior year in high school, my father said that dancing hula wasn't a profession. He said I had to go to college, and I said okay, what college dad? Going to college wasn't my dream. I had three sisters who were going to college so I said alright, I'll go to college.
I actually got lost for awhile, but I was very fortunate to start off my career at an insurance company. Through the years I kept jumping around from company to company and eventually ended up at Wang Laboratories and there my ex-husband and I bought our first investment property. From there I decided to get my real estate license in 1990.
Q: How was your transition from the insurance industry to the real estate market?
A: Fortunately I came into this legal assistant job at a law firm that focused on real estate law. To tell you the truth, I wasn't even thinking of working in law or even real estate, but it just so happened to be something that came upon me. So I took it, and I fell in love with it. I did it for over ten years. The company worked with a lot of big developers. All these sub divisions or condos, and all that was from the ground up. That's what my boss did. He represented a lot of different corporations and developers.
After ten years of being with this one boss I decided it was time for me to spread my wings and go on my own and I had my license as a real estate agent. That was back in 2001.
Q: How has your previous experience and current position with Marcus & Associates, Inc., benefited your clientele through the years?
A: Being that I saw the legal side of things, and then now representing the buyers and sellers on the other end, my biggest thing is to make sure that these people are well represented. That it's in their best interest at heart. Everything comes from the heart for me. That everything was done right and that they're happy, that they're okay. I try to continue my relationships with them even after the sale or the buy is closed, because I want to make sure that they're okay and good with their lives.
Q: How rewarding is it for you to be involved with the Rotary Club of Pearlridge and the Aiea High School band?
A: I love to see people happy. I love to help. It's not so much for me, but it's what I do for others and to see the smiles on their faces that they're so happy. Even like working with the Aiea High School band students, they're so appreciative of what we do for them. We have to do a lot of fundraising, but it's about going out there to be a part of this. To see the rewards that the kids get because of all this work that we've done. The journeys that we take, create great memories. Even in rotary, I've only been it for a little over a year, but to see how people like Dick Mosko, who first formed this club, to see how he continues to be a part of it. To see how they always continually go out into the community to help the people. That's what I like. I think they're just great examples and I want to be a part of that.
Q: Is there any other type of community service that you would like to be a part of if you had the time to do so?
A: I wouldn't mind helping our seniors. I think we need to make sure that they're taken care of. I would like to contribute to their needs in order to make a difference in their lives.
Q: Anyone that you would like to recognize for contributing to your success?
A: Definitely my mom. She's been my biggest support, especially through the ups and downs in this business. I would also thank my boss, Dale Nishikawa who really has been my mentor through my career in real estate.
Q: Your mom plays an inspiring role in your life and business on a daily basis. How has her talents along with your, "from the heart" business philosophy, enhanced your relationship with your clients?
A: My mom was a cafeteria manager so she's this great cook. I know one thing that people really love and appreciate is home baked goods. My mom helps me bake all these pound cakes and love it when I go and I deliver it to my clients and to see the smiles on their face. I always let them know that my mom made it, not me, but this is what I wanted to give to you. That's the reward to see that smile on their face.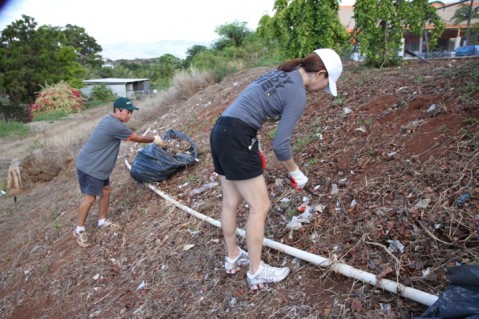 Photo by Barry Villamil | barry@mypearlcity.com
Charlene pictured with Rotary Club of Pearlridge Board Member Gordon Arakaki during the clubs community service project at the UH Pearl City Urban Garden Center on Sunday, September 1, 2012.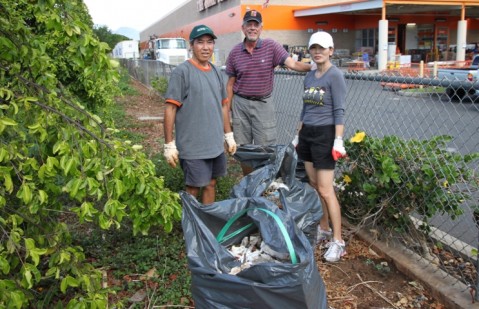 Photo by Barry Villamil | barry@mypearlcity.com
Charlene is pictured with Rotary Club of Pearlridge members Gordon Arakaki and Ralph Portmore.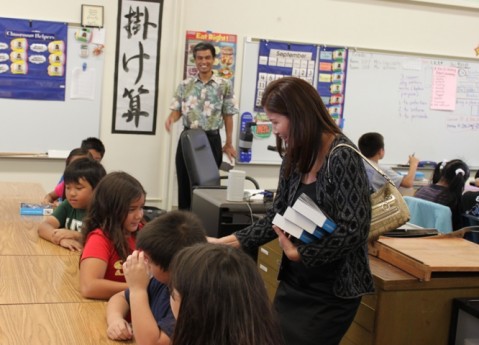 Photo by Barry Villamil | barry@mypearlcity.com
Charlene presents Momilani Elementary School third graders with brand new dictionaries on September 22, 2011 during the Rotary Club of Pearlridge Dictionary 5000 Project that supplies selected Pearl City and Aiea elementary schools with dictionaries for their third grade students.