Pearl City defensive back Timothy Rivera picked off Kalani QB Noah Brum three times to spark the Chargers 40-30 win over the Falcons last night in Oahu Interscholastic Association White Division Varsity Football played at Pearl City High School's Edwin "Bino" Neves Stadium. It was the Chargers fifth win a row after starting the season 0-3.
A win in last night's match up between Pearl City and Kalani was pivotal for both ball clubs' in order to stay in the hunt for an OIA White Division Varsity Football Championship Playoff berth.
Pearl City finished the regular season at 5-3. Kalani is 4-3 with one game remaining on their regular season schedule. The Chargers will officially finish the regular season next week with a bye. The outcome of next week's final regular season games will determine the top four seeds for the championship tournament.
Timothy Rivera's career night for the Chargers was one of many bright spots with regard to the consistent play of the Chargers quick and hard hitting defense that created turnovers that led to touchdowns. Melvin Schmidt IV and Kyle Tom each had one pick to give the Chargers a total of five picks on the night.
Rivera stunned the Falcons on their first offensive possession to open the game with an 18 yard interception for a touchdown that gave the Chargers a 7-0 lead after a successful Derek Chang PAT.
The Chargers went out a 20-0 first quarter lead after two Falcon turnovers that led to a 28 yard touchdown reception from QB Brock Teixeira to Daicorri Briscoe and a one yard rushing touchdown by David Laranol.
Kalani got on the scoreboard in the first quarter on a 27 yard field goal by Leo Klink.
The Chargers scored two more touchdowns in the second quarter on a one yard touchdown run by Blake Cooper and a 25 yard touchdown pass from Teixeira to Isaac Amorin that was set up by a Kordell Vaa fumble recovery.
Kalani picked up a second quarter safety after Pearl City's Isaac Amorin was forced out of the end zone.
The Chargers took a commanding 33-5 lead into the half.
In the third quarter, the Falcons got on the scoreboard on a 19 yard touchdown strike from QB Noah Brum to Kanoa Wong. Wong ran in the two point conversion to cut into the Chargers lead at 33-13.
In the fourth quarter, Klink kicked his second field goal of the ball game for the Falcons connecting from 35 yards. The Falcons trailed 33-16.
The Chargers came right back on 28 yard touchdown toss from Teixeira to Briscoe to put the Chargers up 40-16 after a successful PAT.
The never say die Falcons came back scoring on couple touchdown passes of 13 and 25 yards from Brum to Enrique Gruver. The Falcons missed the two point conversion attempt on the first touchdown but converted on the second touchdown on a pass from Brum to Gruver. Kalani trailed Pearl City 40-30 which would stand as the final score.
Pearl City's Brock Teixeira finished the game completing 12 of 30 for 260 yards and three interceptions.
Daicorri Briscoe led the Chargers in receptions with 6 catches for 155 yards and two touchdowns. Isaac Amorin hauled in 3 catches for 74 yards and one touchdown. Tanner Tokunaga recorded 3 catches for 31 yards.
The Chargers rushing game was led by Kristian Va'ana-Kikuyama who rushed 32 yards on 5 carries, and Tanner Tokunaga who ran for 31 yards on 8 carries.
Kalani's Noah Brum completed 25 of 50 for 310 yards and 5 interceptions.
Enrique Gruver led the Falcons in receptions with 10 catches for 138 yards and wo touchdowns.
Noah Kim was the Falcon's top rusher with 37 yards on 14 carries.
Friday night's Chargers win was a special night for first year Head Coach David Hallums. After a rough 0-3 start, Coach Hallums has seen his ball players and coaches come together to overcome the early losses and string together five wins in a row and possibly earn their way into the championship tournament.
"I'm so proud of these boys and how they are performing," said Hallums. "I love these guys. We played a good Kalani team tonight and the boys came through. We have guys like Daicorri Briscoe who has really stepped up in a leadership role and instilled pride and has taken a vocal role in teaching the younger players how to be a Charger on and off the field. We're also starting to peak, and if we make into the playoffs, we'll need our senior leadership and experience to win a championship."
Coach Hallums has also been under a bit of adversity after a loss of a family member recently. He prides his coaching staff and ball players for stepping up and keeping everything on course in his absence.
"In the last couple of weeks I've had to miss a few practices but the team kept everything going and never missed a beat," Hallums said. "It's hard to be away from practice and the team, but they all stepped up."
Coach Hallums is first to give credit to those who have helped in the success of Chargers football program since taking over the helm back in February.
"I want to thank Principal Fujimoto and Athletic Director Reid Shigemasa for all their support during the football program's transition to a new coaching staff and throughout the season for both the varsity and junior varsity," Hallums said. They have been so supportive and I would like to thank them both."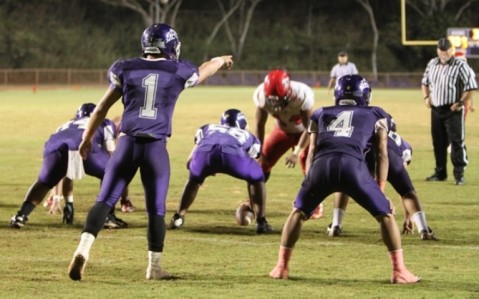 Photo by Barry Villamil | barry@mypearlcity.com
Pearl City QB Brock Teixeira led the Chargers to their fifth win in a row with a 40-30 victory over Kalani on Friday, October 5, 2012.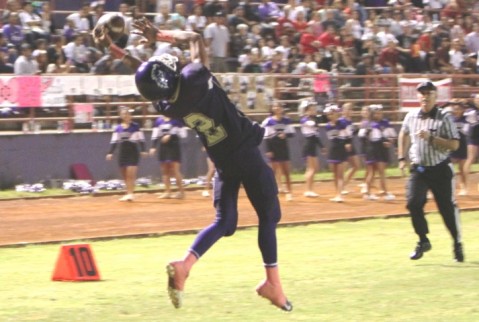 Photo by Barry Villamil | barry@mypearlcity.com
Brock Teixeira connected with Isaac Amorin on a 25 yard touchdown pass in the second quarter.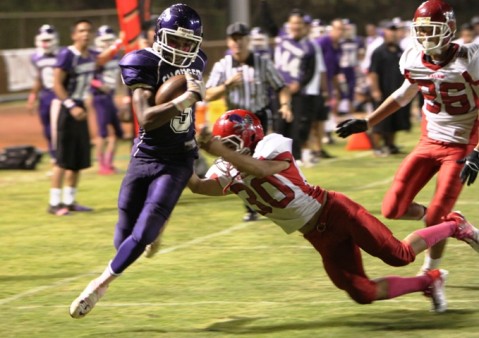 Photo by Barry Villamil | barry@mypearlcity.com
Daicorri Briscoe shakes out of the grasp of Kalani defensive back Brandon Gateway. Briscoe made it to the one yard line setting up a one yard touchdown run by David Laronal in the first quarter.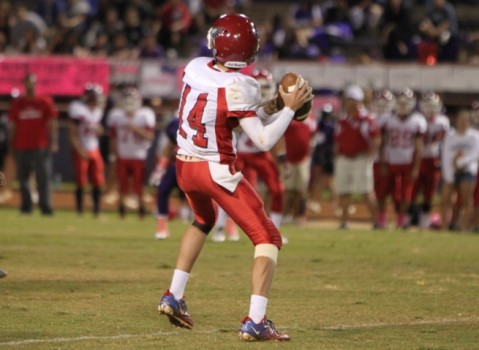 Photo by Barry Villamil | barry@mypearlcity.com
Kalani QB Noah Brum Kalani's completed 25 of 50 for 310 yards but gave up 5 picks to the Chargers defense.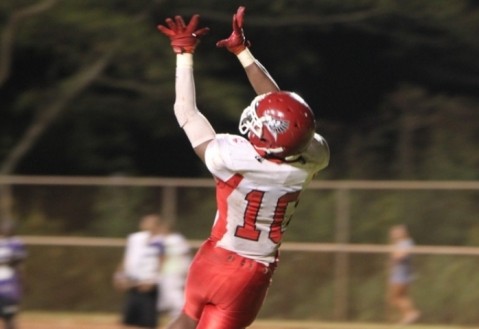 Photo by Barry Villamil | barry@mypearlcity.com
Kalani slot back Enrique Gruver goes up for a Noah Brum pass and will score on a 13 yard touchdown reception in the fourth quarter. Gruver and Brum connected for two touchdowns through the air in the fourth quarter.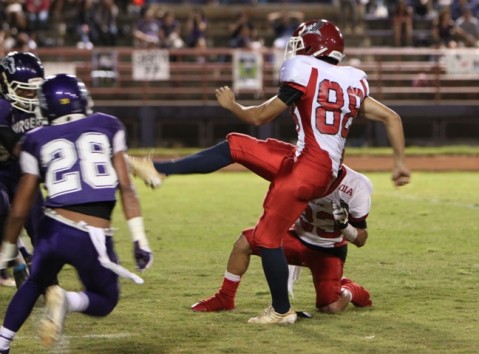 Photo by Barry Villamil | barry@mypearlcity.com
Kalani kicker Leo Klink gets the Falcons on the board with a 27 yard field goal in the first quarter.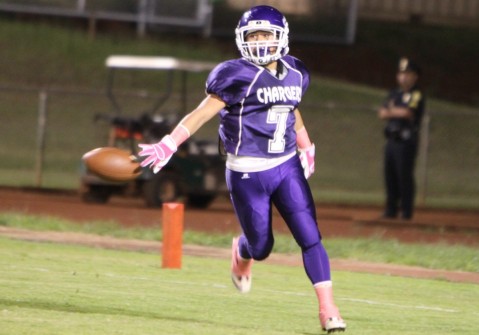 Photo by Barry Villamil | barry@mypearlcity.com
Timothy Rivera picked off Brum and returned it 18 yards for a touchdown in Kalani's opening drive against the Chargers. It was the first of three picks for Rivera off of QB Noah Brum in the game.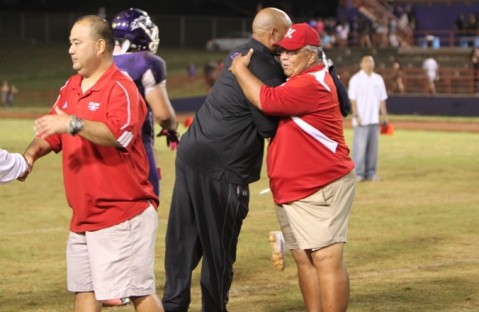 Photo by Barry Villamil | barry@mypearlcity.com
Coach Hallums and Kalani Coach Ron Lee congratulate each other at the end of the game.

Congratulations to the Pearl City Chargers Senior Class!
The Chargers football and cheer teams celebrated Senior Night on Friday during a post game recognition ceremony that followed the Chargers win over the Falcons.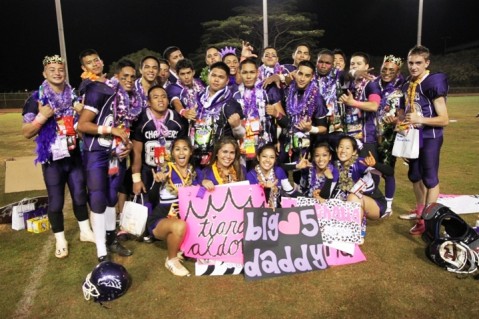 Photo by Barry Villamil | barry@mypearlcity.com
Aloha Seniors!

Photo by Barry Villamil | barry@mypearlcity.
Daicorri Briscoe pictured with his parents, goes out in true Chargers style on Senior Night!

Junior Varsity: Pearl City 42 Kalani 6
The Pearl City Chargers Junior Varsity football team finished the regular season undefeated at 6-0 after beating Kalani 42-6 and are headed to the OIA White Division Junior Varsity Football Championship Playoffs.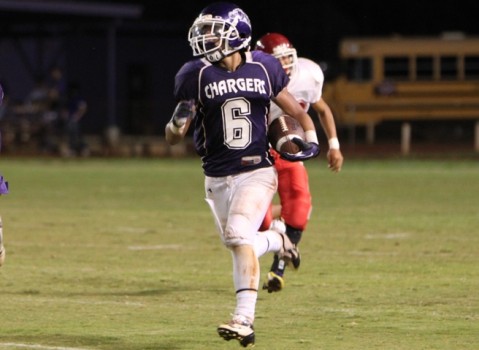 Photo by Barry Villamil | barry@mypearlcity.com
Dominic Maneafaiga scores on a long touchdown run in the second half against Kalani.