Pearl City had an opportunity to secure a state berth with a win over Castle last night in the first round of the Oahu Interscholastic Association Red Division Varsity Girls Volleyball Championship Tournament played at Kahuku High School on the North Shore.
The Castle Lady Knights also had the same intentions and earned early entry into state's with a 26-24, 21-25, 25-21, 25-22 match win over the Lady Chargers.
The Lady Chargers still have a shot at winning a state berth but most importantly an OIA Championship is what the team is focused on at the moment. The road got a little tougher with the loss to Castle which means a trip through the losers bracket and a Tuesday match up with Kaiser at Farrington High School. The Lady Knights move on in the winners bracket and will face a tough Kahuku Lady Red Raiders squad on Tuesday at McKinley High School.
In Thursday nights win, Ku'ulei Lynch led Castle with 13 kills followed by teammate Rachel Lafitaga with 9 kills.
Pearl City's Kaya Chong turned in another outstanding performance with a match high 24 kills to lead the Lady Chargers. Johnnai Kapua finished with 8 kills followed by Taylor Inong with 7 kills.
Castle improved their record to 10-3 while Pearl City dropped to 8-3.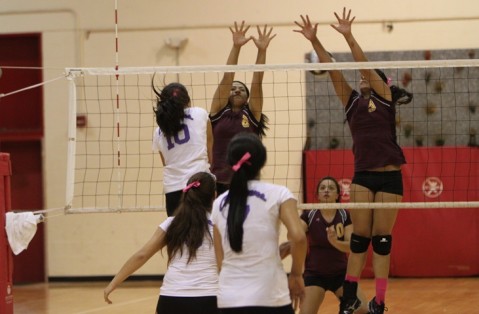 Photo by Barry Villamil | barry@mypearlcity.com
Pearl City's Johnnai Kapua drills a kill past two Castle defenders to win game two 25-21 and even the match at 1-1. Kapua finished with 8 kills.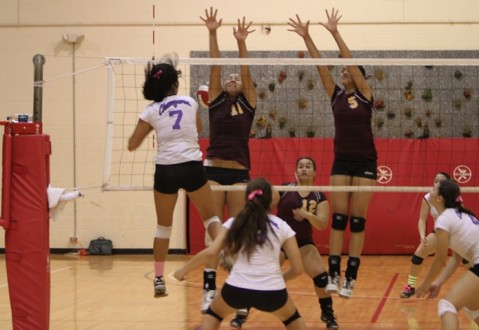 Photo by Barry Villamil | barry@mypearlcity.com
#7 Kaya Chong scores another kill for the Lady Chargers in game four. Chong had a match high 24 kills against Castle.
Go Lady Chargers!