It was a performance by the Pearl City Chargers Boys and Girls Junior Varsity Cross Country teams during Saturday's Oahu Interscholastic Associations Junior Varsity Cross Country Championships at Waialua High School that truly defined their heart and soul while earning an OIA Championship for the boys team and a strong performance and finish for the girls. Both teams were driven by the spirit and inspiration to do their best.
The girls started off the OIA Championships with a 2nd place finish by Tiffany Nakagawa who completed the 3-mile course in 21:37.52. Kaysi Cazimero finished in 17th place with a time of 23:05.75.
"The girls definitely started us out on the right foot," said Chargers Head Coach Todd Nishida. "They ran outstanding races and beat all the Mililani girls for the first time this season. We worked on some things this week and it's starting to show. Kaysi was outstanding with a 17th place finish and I think that's just amazing from where she came from this year."
The boys followed with an OIA Championship clinching performance that was well run and perfectly executed.
"It was also an amazing effort from our boys," Nishida said. "I'm glad they saved the best for last. All these guys stepped up today. A lot of the guys ran out of order and the other guys just stepped it up. It was huge. Our one and two positions were kind of out of order, but that's what we want. We want to be challenging each other and everybody else. They were really amazing. Like I said, they saved the best for last. I don't think I could ask for anything more from them. The hard work that they put in all through the summer and especially this week, there was a huge difference from what I saw last week and this week. They just came out a lot more prepared and ready for this race."
Devin Ajimine was the first to finish for the boys in 4th place (18:51.93) followed by Danson Honda in a close 5th place finish (18:54.30). Ajimine and his teammates set a goal of running hard while pushing each other to do their best throughout the 3-mile course. The strategy worked.
"We didn't say we want first, we just said we want to try our best and run hard and do the best we can," said Ajimine. "Our slower people ran out of their bubble and left it all on the field. Like Danson, he usually finishes in third place out of the whole team, but he was in front of me and I'm usually the first one out of our team."
Ajimine made sure he gave credit to Coach Nishida for his efforts in preparing the boys and girls teams for the OIA Championships. "Coach gave us the inspiration to do our best," Ajimine said.
The Pearl City Chargers varsity boys and girls teams will compete in the OIA Varsity Cross Country Championships on Saturday, October 20, 2012 at 3:00pm at Hawaii Pacific University's Hawaii Loa Campus.
Race Results:

Pearl City Chargers 2012 OIA Junior Varsity Boys Cross Country Champions
4th – Devin Ajimine – 18:51.93
5th – Danson Honda – 18:54.30
9th – Ryan Nakano – 19:13.77
10th – Jordan Santos – 19:24.85
16th – Damian Silva – 19:39.93
35th – Maui Lee – 21:02.04
36th – Brent Watanabe – 21:05.01
Pearl City Chargers Junior Varsity Girls

2nd – Tiffany Nakagawa – 21:37.52
17th – Kaysi Cazimero – 23:05.75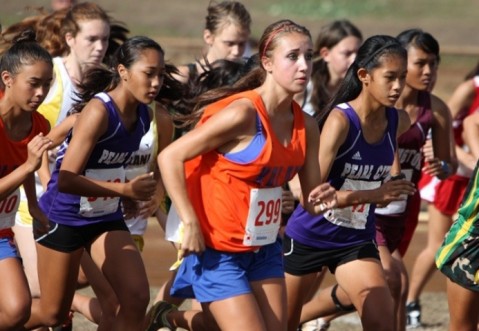 Photo by Barry Villamil | barry@mypearlcity.com
Kaysi Cazimero and Tiffany Nakagawa ran their hearts out for the Lady Chargers Junior Varisty team.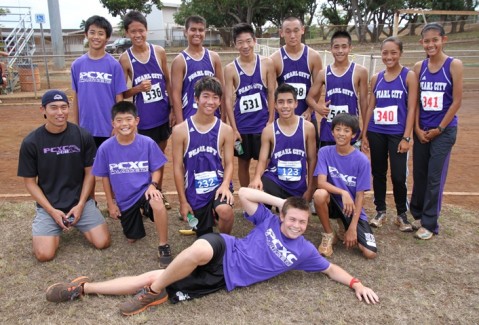 Photo by Barry Villamil | barry@mypearlcity.com
Pearl City Chargers Boys and Girls Junior Varsity Cross Country teams pose with Head Coach Todd Nishida at the OIA Junior Varsity Cross Country Championships held at Waialua High School on Saturday, October 13, 2012.

Congratulations Chargers!

For complete OIA Junior Varsity Cross Country Championship race results, log on to: https://sites.google.com/site/oiacrosscountryhawaii/