Submitted by Suzanne Eugenio: Community Car Care Check-up Events Scheduled for Fall Car Care Month.
In celebration of Fall Car Care Month in October, Flagship Fastlube is holding free Car Care Check-ups throughout the month at all six of their Oahu locations, with the celebratory events scheduled for Sat., Oct. 20th. There will be free vehicle inspections from 8 A.M. to 6 P.M. at the Kapolei, Royal Kunia, Waipio, Wahiawa, Aiea and newly opened Pearl City location.
Stop by and let the professional technicians identify opportunities for you to improve your vehicle's gas mileage, enhance performance, increase safety and reduce emissions. A portion of the proceeds of any oil change done will go to the Hawaii Affiliate of Susan G. Komen for the Cure to support Breast Cancer Awareness month.
The inspections include checking fluid levels, tires, lights, belts, hoses and other system components. After the inspection is completed, staffers review any discrepancies with the motorist and provide information about proper vehicle maintenance and repair. The goal of events like these is to help motorists learn how to "Be Car Care Aware."
Fall Car Care Month is a nationwide effort to focus motorists' attention on the importance of vehicle care and maintenance. "We're happy to provide this service to the community," says Flagship Fastlube owner and operator, Christopher Price. "Vehicle safety and gas mileage are especially important to Hawai'i families, so this is a great opportunity to bring their car down, get a free check up and some added piece-of-mind."
For more information about this event, or Flagship Fastlube's network of locally owned and operated automotive service centers, please contact Suzanne Eugenio at 808.358.4376 or kaicomm.eugenio@gmail.com. Or visit flagshiphawaii.com.
The Car Care Council is the source of information for the "Be Car Care Aware" campaign, educating consumers about the benefits of regular vehicle care, maintenance and repair.
For more information about Fall Car Care Month, visit the Car Care Council Web site at www.carcare.org.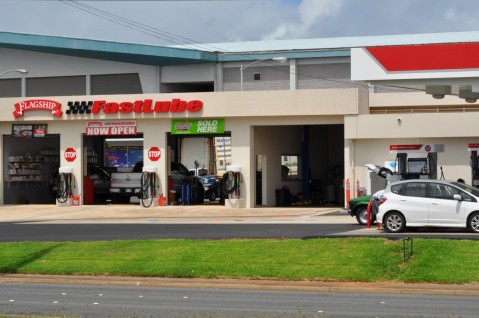 Photo courtesy of KAI Communications
Newly opened Flagship FastLube located at the Pearl City Shopping Center.