The month of October is turning out to be possibly the most successful championship run that the Pearl City High School Athletics Program has ever experienced in its 40 year history of competing in the Oahu Interscholastic Association. November is looking to be just as bright as PCHS teams have already qualified or are on verge of qualifying for state tournament berths.
Last night at the Schofield Bowling Center in Wahiawa, the Pearl City Charger boys and girls bowling teams continued on building their dynasty and legacy of excellence and honor with wins in the OIA Bowling Championships.
Earlier in the month, the boys and girls air riflery teams captured OIA Air Riflery titles in the OIA Western Division and OIA Championships.
The Chargers junior varsity boys cross country team added OIA Western Division and OIA Championships to the Chargers trophy case.
The Varisty boys and girls cross country teams compete in the OIA Championships at Hawaii Pacific University's Hawaii Loa Campus on Saturday.
The Pearl City Chargers junior varsity football team won the OIA White Division regular season with a record of 6-0. The team will compete in the OIA White Division Junior Varsity Football Championship Tournament which begins tomorrow with a semifinal match up against Kaiser at Kaiser High School.
The Pearl City Lady Chargers will play for fifth place in the OIA Red Division Varsity Girls Volleyball Tourmament on Tuesday and have already qualified for a berth in the HHSAA State Tournament.
OIA Bowling Champions

BOYS

The boys captured their third consecutive OIA championship title in a row and will be shooting for a state championship three-peat at the Billy Tees/HHSAA State Bowling Championships which runs from November 1-2 at Kauai Bowl in Lihue, Kauai.
Team Scoring:
1 Pearl City – 5846
2 Kalani – 5571
3 Mililani – 5427
4 Moanalua – 5396
(Top three advance to state team championships)

Individual Scoring: Top 5

1 Ronson Dagdag – Mililani 1368
2 Nicholas Azumi – Pearl City 1340
3 Andrew Abadilla – Waipahu 1338
4. Nakoa Naauau – Pearl City 1324
5 Dorien Antonio Martos – Kapolei 1315
(32 advance to state individual championships. Pearl City placed seven bowlers in the championships).

Highest single game pin count:

Pearl City – Nakoa Naauaa 267
Pearl City – Nicholas Azumi 263
GIRLS
The girls, who won the 2011 OIA girls bowling championship, defended their title to go back to back and repeat as OIA champions.
Team Scoring:
1 Pearl City – 5554
2 Mililani – 5149
3 Kalani – 4477
4 Moanalua – 4440
Individual Scoring: Top 5

1 Danielle August – Mililani 1201
2 Kacee Taniyan – Leilehua 1197
3 Chelsi Morishige – Pearl City 1191
4 Jordan Oliveros – Mililani 1124
5 Kristin Frost – Pearl City 1119
(Top 31 advance to state tournament)

OIA Girls Volleyball Championship Tournament

Moanalua defeats Pearl City 2-1
The Moanalua Lady Na Menehune dropped the Pearl City Lady Chargers from any hopes of winning a 2012 OIA Girls Varsity Volleyball Championship with a 25-23, 27-29, 15-6 win on Thursday at Farrington High School.
Both teams were working their way through the losers bracket last night in the double elimination format tournament.
Silerolia Gaogao led the Lady Na Menehune with a match high 15 kills. Analise Austin had 7 kills for the Lady Na Menehune.
Pearl City's Kaya Chong led the Lady Chargers with 12 kills, 7 digs and 1 block.
Teammate Kacie Chinen took care of business at her libero position recording 19 digs. Janelle Fuamatu added 11 digs for the Lady Chargers.
The Lady Chargers return to action on Tuesday in a rematch with Castle for fifth place in the OIA championship tournament. Castle defeated Pearl City in the tournament first round 3-1. Both teams have already qualified for a berth in the state tournament.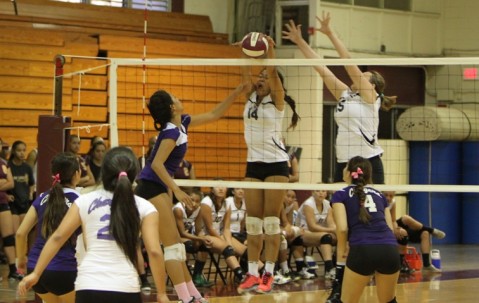 Photo by Barry Villamil | barry@mypearlcity.com
Kaya Chong works the ball over the net in the second set won by the Lady Chargers in a thriller 29-27. Chong scored three of the final four points for the second set win.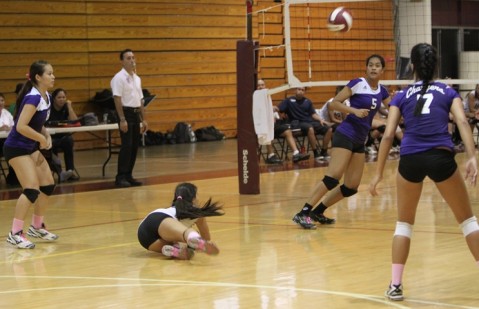 Photo by Barry Villamil | barry@mypearlcity.com
Kacie Chinen picks up another dig against Moanalua. Chinen recorded 19 digs in the match.

Go Lady Chargers!